Plasma Confinement Ring accelerates etch rate.
Press Release Summary: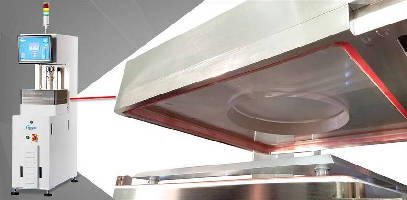 Available with SPHERE™ plasma systems, Plasma Confinement Ring targets wafer processing and wafer fan-out applications. Made with insulated, non-conductive material, ring concentrates and focuses plasma directly over wafer to speed etching process, provide uniform plasma coverage, and to isolate plasma on wafer itself. Using confinement ring, there is a free conduction path between upper and lower electrodes in wafer region, but no conduction path in adhesive tape and wafer frame area.
---
Original Press Release:
Nordson MARCH's Plasma Confinement Ring Increases Etch Rate and Improves Treatment Uniformity for Wafer Processing
Isolates plasma on the wafer, not the area around or below it

Concord, California, USA - Nordson MARCH, a Nordson company (NASDAQ: NDSN), a global leader in plasma cleaning technology, introduces its Plasma Confinement Ring for wafer processing and wafer fan-out applications. The ring concentrates and focuses the plasma directly over the wafer to speed up the etching process, provide uniform plasma coverage, and to isolate the plasma on the wafer itself rather than the area around or below it. Process temperatures can be kept low because the ring increases etch rate capability without the need to increase the electrode temperature or add bias to the chuck.

Using the confinement ring, there is a free conduction path between the upper and lower electrodes in the wafer region, but no conduction path in the adhesive tape and wafer frame area. The ring is made with an insulated, non-conductive material, while the aluminum-to-aluminum plasma conduction path is confined to the wafer area. There is a 2mm gap between the ring and the adhesive tape and wafer frame. Because there is no plasma generation or plasma to the bottom of the wafer and adhesive tape, undercutting and delaminating are minimized and there is no sputtering or adhesive tape deposition on the wafer surface.

"The big difference between our concept and most front-end systems is the spacing and confinement method," explained Jonathan Doan, director of marketing, Nordson MARCH. "In our method, we minimize the gap between the ring edge and lower electrode, resulting in a smaller spread area. This gap is roughly 2mm or less, so you only get secondary plasma, rather than primary plasma as you do on other systems. The overall chamber volume is reduced to just the area above the wafer."

The Plasma Confinement Ring is available with Nordson MARCH's SPHERE™ Series of plasma systems. Plasma applications include descum, ashing/photoresist/polymer stripping, dielectric etch, wafer bumping, organic contamination removal, and wafer destress.

For more information contact Nordson MARCH at [email protected], call +1.925.827.1240, or visit our website at http://www.nordson.com/en/divisions/march/products/plasma-treatment-systems/modvia-expandable-plasma-system.

About Nordson MARCH
Nordson MARCH is the global leader in plasma processing technology for the semiconductor, printed circuit board (PCB), microelectronics, and medical & life science device manufacturing industries. Nordson MARCH has offices and laboratories worldwide, including California, Europe, Singapore, China, Japan, Korea and Taiwan. With over 25 years of continuous innovation, Nordson MARCH designs and manufactures a complete line of award-winning and patented plasma treatment systems. An expert staff of scientists and engineers is available to assist in the development of plasma processes that improve product reliability and increase production yields. Visit Nordson MARCH at www.nordsonmarch.com, www.facebook.com/NordsonMARCH, www.twitter.com/NordsonMARCH, or Google+.

About Nordson Corporation
Nordson Corporation delivers precision technology solutions that help customers succeed worldwide. Precision dispensing of adhesives, coatings, sealants, biomaterials, and other fluids, plastic extrusion and injection molding, electronics testing and inspecting, and surface preparation are supported by applications expertise and direct global support. Nordson serves consumer non-durable, durable and high-technology markets, specializing in packaging, nonwovens, electronics, medical, energy, transportation, construction, and product assembly. Founded in 1954, headquartered in Westlake, Ohio, USA, Nordson has operations and support offices in 30+ countries. Connect with Nordson at www.nordson.com and on social media.

For more information contact:

In USA:
Roberta Foster-Smith
Nordson MARCH (International Headquarters)
2470-A Bates Avenue
Concord, California 94520 U.S.A.
Tel.: +1.925.827.1240
Email: [email protected] 
Website: www.nordsonmarch.com