Planet Acquires ProHold Hydraulic Vises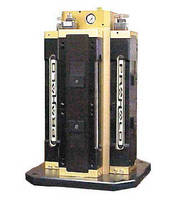 Planet Products Corporation has acquired a patent license to manufacture the ProHold hydraulic vise line. The ProHold hydraulic vises provide an adjustable and consistent clamping force, bi-directional clamping, and are fully automation capable using an external or internal hydraulic power unit. Vises are available in 4" or 6" configurations, and can be used individually, stacked in-line, or integrated in tombstones for horizontal pallet applications. Planet will also support existing ProHold customers with parts and service.

Planet Products is a precision manufacturer specializing in close tolerance CNC machining, hydraulic products, and machine tool accessories located in Cincinnati, Ohio. For more information, contact Garth Dexter, General Manager, (513) 984-5544, info@planet-products.com.


More from Machinery & Machining Tools