Pipe/Duct Accessory facilitates overhead installation.
Press Release Summary: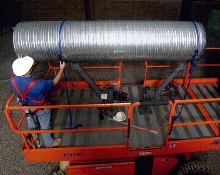 SkyPositioner(TM) consists of removable, platform-mounted positioning system that can be installed on Model 3394RT and 439RT rough terrain scissor lifts to lift, hold, and position material during installation. With 2 interchangeable heads, system allows operator to lift pipe or duct as high as 78 in. above scissor lift deck. Both heads have 1,000 lb capacity and can hold lengths up to 21 ft, pipe up to 8 in. diameter, and duct up to 49 in. across.
---
Original Press Release:
JLG Overhead Pipe and Duct Accessory Makes Lifting Easier
McConnellsburg, PA, March 23, 2005 - The new Sky Positioner(TM) accessory from JLG Industries, Inc. helps workers install pipe and ductwork overhead. The removable, platform mounted positioning system can be installed on JLG® Model 3394RT and 4394RT rough terrain scissor lifts to lift, hold, and position material during installation. After loading material in the accessory, the scissor lift is positioned beneath the location where the installation is to take place and raised to the overhead area. Adjustable jacks lift the load to complete the installation. The SkyPositioner allows the operator to lift pipe or duct as high as 78 in. above the scissor lift deck for positioning, without the strain of lifting by hand. To facilitate precision positioning, each jack operates independently providing front-to-rear adjustment and may be positioned 15-in. laterally (side-to-side). In the stowed position, the SkyPositioner is 50-in. high and can be bolted on units equipped with single or dual deck extensions. The SkyPositioner accessory includes two easily interchangeable heads, one for holding pipe, the other for ductwork. A storage location is provided for the head not in use. Both heads have 1,000-lbs. capacity and can hold lengths as long as 21 ft. and can handle pipe with diameters as large as 8 in. and duct up to 49 in. across. The accessory has straps to secure the material in place. The pipe head features lockable rollers that allow the operator to roll pipe from the positioner onto hangers or other fixtures. This accessory is an ideal solution for mechanical, sprinkler, HVAC and other contractors looking to increase productivity and reduce manual overhead lifting. The SkyPositioner accessory greatly reduces the physical burden on the operator and is a more cost effective solution than renting a crane in tandem with a scissor lift. JLG Industries, Inc. is the world's leading producer of access equipment (aerial work platforms and telehandlers) and highway-speed telescopic hydraulic excavators. The Company's diverse product portfolio encompasses leading brands such as JLG® aerial work platforms; JLG® SkyTrak®, Lull®, and Gradall®, telehandlers; Gradall® excavators; and an array of complementary accessories that increase the versatility and efficiency of these products for end users. JLG markets its products and services through a multi-channel approach that includes a highly trained sales force, marketing, the Internet, integrated supply programs and a network of distributors. In addition, JLG offers world-class after-sales service and support for its customers in the industrial, commercial, institutional and construction markets. JLG's manufacturing facilities are located in the United States, Belgium, and France, with sales and service locations on six continents. For additional information visit www.ilg.com or contact: Mr. Jeff Ford Product Manager JLG Industries 13224 Fountainhead Plaza Hagerstown, MD 21742 TEL: (240) 420-8727 FAX: (240) 420-8733 E-mail: jdford@jlg.com