Pressure Sensors / Detectors / Transducers
Piezoresistive Transducers have output voltage up to 300 mV.
Press Release Summary: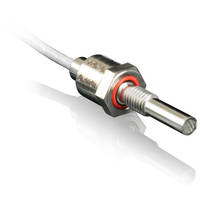 Available in ranges from 15-500 psia, 8540 series miniature high sensitivity piezoresistive absolute pressure transducers measure static or dynamic pressure within variety of high temperature applications. Units feature 0.15 in. face dia for flush mounting for skin pressure measurements on aircraft, or inlet distortion pressures in turbine engines. Internal sensitivity compensation and zero trim provide accuracy to +500°F with diminished lifetime operations in temperatures up to +600°F.
---
Original Press Release:

Endevco Rugged, Miniature High Sensitivity Piezoresistive Transducers Measure Absolute Static or Dynamic Pressure in High Temperature Environments



September 18, 2009, San Juan Capistrano, California, USA - Endevco Corporation (Endevco®) (www.endevco.com), a Meggitt Group Company and global leader in the design and manufacture of sensing solutions for demanding vibration, shock and pressure applications, has announced the availability of the 8540 series , a family of highly rugged, miniature high sensitivity piezoresistive absolute pressure transducers. Their excellent linearity and very high resonance, makes them ideal for measuring static or dynamic pressure within a variety of high temperature applications.

Endevco 8540 series transducers employ piezoresistive MEMS technology housed in a rugged stainless steel case, for maximum sensitivity and wide frequency response, and with an industry exclusive full scale output to 300 mV. Internal sensitivity compensation and zero trim provide accuracy to +500 °F (+260 °C) with diminished lifetime operations in temperatures up to +600 °F (+316 °C). In addition, this transducer series exhibits low photo-flash sensitivity and high stability during temperature transients. Available in ranges from 15 to 500 psia, the 8540 series features a small (0.15 inch; 3.8 mm) face diameter, which facilitates flush mounting for skin pressure measurements on aircraft; inlet distortion pressures in turbine engines; or transmission pressures in automobiles. The transducer's high frequency response enables it to be used on small wind tunnels scale models, as well as within rocket, jet engine and auxiliary power unit (APU) monitoring applications.

Transducers are supplied with integral cable. Recommended accessories for use with the Endevco 8540 series include the new model 4990a (Oasis), as well as model 136 three-channel system or model 4430A signal conditioner. For detailed specifications, drawings or technical assistance for the 8540 series or other Endevco products, please visit www.endevco.com.

About Endevco Corporation, a Meggitt Group Company:

Founded in 1947, with headquarters in San Juan Capistrano, California, USA, Endevco is the world's leading designer and manufacturer of dynamic instrumentation for vibration, shock and pressure measurement. The company's comprehensive lines of piezoelectric, piezoresistive, Isotron® and variable capacitance accelerometers are used to ensure accurate and reliable measurements in a wide range of industries, including aerospace, defense, automotive, test and measurement, medical, and energy. Additional products include pressure transducers, acoustic sensors, electronic instruments and calibration systems. A member of the Meggitt group of companies (www.meggitt.com), Endevco supports customers with a global network of manufacturing and research facilities, sales offices and applications engineers.

Technical:

Bruce Lent

Applications Engineer

Endevco Corporation

Tel: 949-493-8181 Ext. 175

Email: bruce.lent@meggitt.com

More from Electrical Equipment & Systems