Picker enables cycle times of 0.6 to 1.0 sec.
Press Release Summary: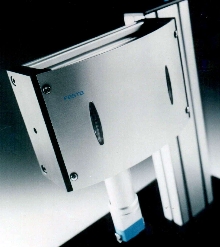 High Speed Picker (HSP) employs one actuator for 2 motions and enables cycle speeds up to 120 cycles/sec. Suited for handling small work pieces with work piece loads below 100 g, unit offers independently adjustable end positions for horizontal and vertical stroke. It is available in 3 sizes with Y and Z stroke ranges of 52-68 and 15-25, 90-110 and 30-45, and 130-170 and 50-75. Compact design suits pick and place applications in confined spaces.
---
Original Press Release:

Introducing the New High Speed Picker


Festo Corporation, Hauppauge New York is pleased to announce the introduction of the "High Speed Picker" (HSP) designed to provide timesavings of up to 20% for handling applications. The HSP enables cycle times of 0.6 to 1.0 seconds to be achieved. Ideal for the handling of small work pieces with typical work piece loads below 100 g.

Intelligent stroke adjustment: The strokes of the pick and place position can be adjusted independently of each other in the Y direction via the three part gate. Also, the stroke adjustment in the Z direction allows an independent height difference between the pick and place positions.

Compact design: The HSP is highly suitable for pick and place applications in confined spaces, for example as a handling system on rotary indexing tables to carry out component-fitting and work piece removal functions.

Flexible and fast with more freedom of movement: The HSP combines fast cycle times with flexible strokes - whereas conventional cam-driven systems for the most part provide rigid motion kinematics with fast cycle times.

The High-Speed Picker is available in three convenient sizes:

o HSP-12 (Y stroke range 52... 68, Z stroke range 15... 25)
o HSP-16 (Y stroke range 90... 110, Z stroke range 30... 45)
o HSP-25 (Y stroke range 130... 170, Z stroke range 50... 75)

Variants and accessories

Apart from the various sizes the HSP offers still more variants and functions:

o With Festo pneumatic swivel drive, Type DSM
o Without drive but with bearing and shaft
o With or without protective cover
o With or without waiting position, optionally on the right or left side

Comprehensive accessories facilitate versatile and flexible use of the HSP:

o Installation kit
o Universal adapter
o Sensors
o One-way flow control valve

Installation and adaptation

Simple and fast attachment: The High-Speed Picker also facilitates faster project planning, commissioning and installation. With the pre-assembled sub-systems there is no need for planning work to match up two axes, adapter plates and installation components. This in turn means less complexity, but provides a simple but effective sub-system. Festo is the trendsetter for easy installation and high operational reliability, because an optional installation package is available for each HSP size.

Also used with the HSP are the existing installation components for handling technology from Festo. Sensor cables and the necessary tubing for a gripper are routed along the vertical guide rail upwards through the HSP. Regardless, whether there are one or four tubes and cables, an installation component on the guide rail plus an adapter enables simple and rapid attachment.

Universal and simple: A multitude of grippers, rotary drives and vacuum generators can be attached to the guide rail by means of a universal adapter. For example, select a Festo compact Type HGWM-8 or Festo TypeHGPP-16 gripper and/or rotary drives Type DRQD, in sizes 6 to 16 mm.

Advantages:

o Cycle speeds up to 120 cycles/sec for greater productivity and reduced production costs
o Independently adjustable end positions for the horizontal and vertical stroke reduces installation time and associated costs
o One actuator for two motions reduces maintenance costs

About The Company

Festo Your Partner for Industrial Automation

As a privately held, financially strong company in business for over 75 years, Festo has the resources and application experience necessary to work with you as a long term partner to provide cost-effective automation solutions for industrial applications.

Festo offers state-of-art automation technology that offers the speed, accuracy and reliability required in today's manufacturing environments. As an ISO 9001 certified company Festo's Corporate Mission is to enhance the business success of our customers by providing innovative products and services, including:

o Complete, custom engineered control and handling systems

o Overall cost reduction services; such as global standardization programs, engineering services, on-site stock review, and e-commerce

o In house training and education programs

o Global service and support in over 180 countries

Over a period of decades and around the world, Festo has become known as the industry innovation leader by working with leading manufacturing companies to develop solutions for the most challenging applications.

More from Communication Systems & Equipment