Photo Smoke-Detector IC offers programmable operating modes.
Press Release Summary: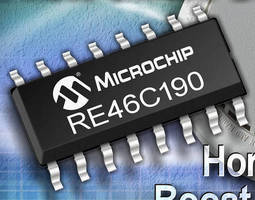 Supplied in 16-pin SOIC 150 mil package, 3 V rated RE46C190 integrates horn driver and boost regulator as well as programmable calibration and operating modes. Programmability helps designers control smoke detector operation and enables one IC to be used to design smoke detectors for different markets and regulatory requirements. Operating current of 8 µA typ enables up to 10 years of operation from one lithium battery; 2 alkaline batteries may also be used for power.
---
Original Press Release:

Smoke-Detector IC From Microchip Offers Low-Voltage Operation; Programmable Calibration and Operating Modes



IC Features Horn Driver and Boost Regulator;

Reduces Cost and Component Count; Simplifies Design

CHANDLER, Ariz. [NASDAQ: MCHP] - Microchip Technology Inc., a leading provider of microcontroller, analog and Flash-IP solutions, today announced the RE46C190 3V photo smoke-detector IC with horn driver and boost regulator. The world's first smoke-detector IC to offer low-voltage operation with programmable calibration and operating modes, the RE46C190 IC enables the desired operating modes to be selected and calibrated during manufacturing. This simplifies smoke-detector design and manufacturing, and reduces component count, and cost. Additionally, the IC's low operating current of 8 microamperes typical enables up to 10 years of operation from a single Lithium battery. Two Alkaline batteries may also be used to power the RE46C190.

Programmable calibration and selection of smoke-detector operating modes provides designers with an easy way to control smoke-detector operation, and enables a single IC to be used to design smoke detectors for different markets and regulatory requirements. This feature also reduces the number of external components required, as electronic programmability allows the integration of several formerly external components into the IC, which in turn reduces costs associated with manufacturing and inventory.

"Microchip already offers a broad line of PIC® microcontrollers, horn drivers, smoke-detector ICs, and signal-chain and power-management devices that enable numerous smoke-detector applications, from simple residential detectors to programmable commercial systems," said Bryan J. Liddiard, vice president of marketing for Microchip's Analog and Interface Products Division. "The addition of a low-voltage smoke-detector IC with programmable calibration and operating modes demonstrates Microchip's steadfast commitment to developing innovative products for the smoke-detector market."

Smoke-Detector IC Packaging, Pricing & Availability

The RE46C190 smoke-detector IC is available in a 16-pin SOIC 150 mil, package for $0.94 each, in 10,000-unit quantities. Samples are available today, at www.microchip.com/get/JEQ6. Volume-production quantity orders can also be placed today, at microchipDIRECT (http://www.microchip.com/get/WVB9). For further information, contact any Microchip sales representative or authorized worldwide distributor, or visit Microchip's Web site at http://www.microchip.com/get/K628.

About Microchip Technology

Microchip Technology Inc. (NASDAQ: MCHP) is a leading provider of microcontroller, analog and Flash-IP solutions, providing low-risk product development, lower total system cost and faster time to market for thousands of diverse customer applications worldwide. Headquartered in Chandler, Ariz., Microchip offers outstanding technical support along with dependable delivery and quality. For more information, visit the Microchip Web site (http://www.microchip.com/get/R4FF).

Note: The Microchip name and logo, and PIC are registered trademarks of Microchip Technology Incorporated in the U.S.A., and other countries. All other trademarks mentioned herein are the property of their respective companies.

Reader Inquiries:
1-888-624-7435
http://www.microchip.com/get/K628

More from Construction Equipment and Supplies