Pharmaceutical Conveyors Feature Adjustable Rail System to Accommodate Multiple Bottle Sizes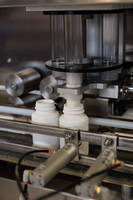 PharmafillTM Conveyors Adjust Fast with No Tools
Wall, NJ: Conveyors in the PharmafillTM line from packaging machinery manufacturer Deitz Co., Wall, NJ (www.Deitzco.com), feature an adjustable guide rail system that permits quick changes to the height, width and shape with no tools to accommodate different bottle heights and/or diameters and speed changeovers. Included as standard equipment on the sanitary conveyors, the adjustable rail system sets dual, upper and lower guide rails on both sides of the raised belt conveyor to keep bottles centered without tipping or sliding as they move downstream, whether empty or filled. A single knob on the proprietary rail gripping bracket may be loosened to raise or lower the rail height, widen or narrow the width, or straighten or curve the shape, then tightened to resume operation.
Developed for pharmaceutical, nutrition, and contract packaging companies as a versatile companion for filling and packaging machinery, the conveyors integrate smooth, plastic inserts within the aluminum guide rails for safe, sanitary product contact, all set on a stainless steel conveyor body. The modular conveyors are designed using standardized rails, mounting hardware, and associated components for easy sourcing, integration, and expansion as needed.
The motorized chain conveyors are manufactured with the adjustable rail system at the company's Wall, New Jersey headquarters and come with a variable speed drive, adjustable-height support legs, and leveling pads. A full warranty is included.
For more information, contact the sales staff, Deitz Co., Inc.; 1750 Route 34, PO Box 1108, Wall, NJ 07719 USA; 732.681.0200; Fax 732.681.8468; www.deitzco.com; sales@deitzco.com.
Media Contact:
Paul Entin at 1.908.479.4231; paul@eprmarketing.com
Wayde Weisleder at 732-681-0200; wayde@deitzco.com