Industrial / Specific Purpose Computers
Personal Computer suits factory floor applications.
Press Release Summary: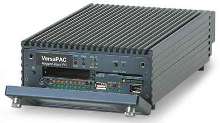 VersaPAC controls PC-standard functions and offers multiple interfaces: Dual Displays, LAN and CAN; GPS; GPRS; and TV/Radio. Product features mobile Intel CPU as well as standard PC functions such as VGA, USB, mouse, and keyboard. For high-speed communications, unit offers connections comprised of 10/100 Base-T, firewire IEEE1394, and WLAN-802 11B interface. For use in vehicles, CAN V2.0 interface is also integrated.
---
Original Press Release:

Dolch Announces Break Through in Rugged Micro PC Computing


Introducing the VersaPAC

Fremont, California, February 27, 2003 - Dolch, the world leader in delivering rugged portable computer solutions, will unveil VersaPAC, a break through in Micro PC computing, at this year's National Manufacturing Week in booth 4510 and will also host a Press Conference on March 5th at 9:00am in room N436A. Thanks to the rugged design, compact dimensions, light-weight and high functionality, the VersaPAC is perfect for in-vehicle, military and factory floor applications. It is one of the smallest rugged personal-computers available anywhere. The VersaPAC controls all PC-standard functions and offers expanded functionality with the addition of multiple interfaces, including Dual Displays, LAN and CAN, as well as, GPS, GPRS and TV/Radio, based on service availability. The VersaPAC has been equipped with state-of-the-art power-saving components and consumes about ¼ of the energy consumption of a common desktop PC.

The VersaPAC features a mobile Intel CPU and all of the functions of a standard PC such as VGA, USB, mouse, keyboard. For high-speed communications, the VersaPAC offers a variety of connections, comprised of a 10/100 Base-T, firewire IEEE1394 and WLAN-802 11B interface. For the use in vehicles, a CAN V2.0 interface has also been integrated. The CAN bus can be used for the connection of further de-centralised I/O modules.

"The VersaPAC is the beginning of a new era in Dolch rugged solutions," commented Jim Ciardella, company President. "We will continue to push the envelope with new and exciting products, backed by the best customer service and support initiatives in the industry; the Dolch Difference."

About Dolch

Headquartered in Fremont, California, Dolch is the world leader in rugged, multi-slot portable industrial PC platforms. Dolch also manufactures rugged touch screen solutions, industrial enclosures and public access kiosk systems. The Dolch Difference - an industry-leading, customer-oriented infrastructure that ensures a consistent product configuration, superior service and lifetime technical support, backs every product. In addition to the Fremont campus, Dolch has offices in San Diego, Baltimore, Cleveland, Germany, Canada, France and the United Kingdom. For more information on Dolch and its products and services, please visit us at DolchPR.com or call 1.877.347.4929.

Related