Personal CNC Milling Machine operates on 115 Vac.
Press Release Summary: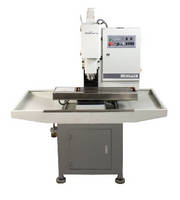 Combining cast iron construction, P4 grade ballscrews, and sensorless vector drive spindle technology, Model PCNC 770(TM) is suited for prototyping, small business, research and development, and educational use. Machine offers 130 ipm feedrates in both X and Y axes and features 1 hp, 10,000 rpm spindle that is compatible with R8 and TTS tools. Providing work envelope of 13 x 7.5 x 13.25 in., PCNC 770 is pre-wired for 4th axis and digitizing probe.
---
Original Press Release:

Tormach® Announces Release of PCNC 770 Milling Machine



The PCNC 770 offers the proven performance of the best selling PCNC 1100 Series II in a smaller package.

Waunakee, WI, - Tormach, LLC announced today that it has released the new PCNC 770(TM) personal CNC milling machine for sale on the company website, www.tormach.com. The PCNC 770 has a space-saving footprint and a basic 115VAC household electrical service requirement. The optional patent pending moving kit allows the machine to be transported as component pieces, making this the first serious machine tool designed specifically for a basement shop.

Over 2 years in development, the design of the PCNC 770 combines reliable cast-iron construction, P4 grade ballscrews, and sensorless vector drive spindle technology to create a simple and robust platform with ample options for user-installed upgrades, just like the best-selling PCNC 1100 Series II. The mill weighs 662 pounds and is equipped with a 10,000 RPM spindle -- well suited for prototyping, hobby, small business, R&D, or educational use.

"Since we first released the PCNC 1100, we've heard from many people that space is a real constraint," said Greg Jackson, president of Tormach. "We wanted to build a CNC machine that can fit smaller spaces without compromising the performance or quality that our customers have come to expect when they purchase a Tormach PCNC." Like PCNC 1100 Series II, the PCNC 770 has enough power to cut the toughest materials - steel, stainless, even titanium.

The PCNC 770 offers 130 IPM feedrates in both X and Y axes. It features a 1 hp spindle that is compatible with both R8 and TTS tools. TTS, the revolutionary dual contact Tormach Tooling System(TM), has become an industry standard for small machines offering quick-change with repeatable tool offsets.

The work envelope is 13" x 7.5" x 13.25" (X, Y, Z). The PCNC 770 is compatible with the majority of the existing accessories in the PCNC line and is pre-wired for 4th Axis and digitizing probe. An optional steel stand and coolant kit are available.

The PCNC 770 has a base price of $6200 and is available immediately for worldwide shipping. Visit www.tormach.com to order.

About Tormach

The people at Tormach are dedicated to delivering tools, accessories, and components of unprecedented value in the world of CNC and motion control. Whether you are involved in R&D, education, short-run production, or simply entrepreneurs with new ideas, Tormach products allow you to make what you need easier, quicker, and more affordable.

Tormach is headquartered in Waunakee, Wisconsin. For more information about 'personal CNC' mills and accessories, please visit www.tormach.com or contact Tormach directly at info@tormach.com


Related