PEM SMTSSS ReelFast SNAP-TOP Standoffs are made of carbon steel material.
Press Release Summary: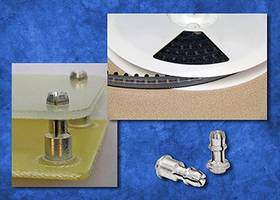 PEM® SMTSSS™ ReelFast® SNAP-TOP® Standoffs are used to secure print circuit boards in assembly. These unthreaded units are available in unified lengths of .250 in. or .375 in. and metric length of 6 mm, 8 mm or 10 mm. Products can be used with boards and panels of .060 in and 1.53 mm size. Standoffs are compatible with SMT automated installation equipment. 
---
Original Press Release:
New PEM® SMTSS™ REELFAST® Surface Mount Standoffs Hold Printed Circuit Boards Securely Without Mating Screws or Other Hardware
New PEM® SMTSSS™ ReelFast® SNAP-TOP® standoffs hold printed circuit boards securely in assemblies without requiring mating screws or other loose threaded hardware to complete attachment. These unthreaded standoffs promote streamlined production by easily installing in boards in the same manner and at the same time as other surface mount components prior to the automated reflow solder process. They ultimately enable precise and reliable mounting and spacing of boards using less hardware and fewer operations.
Unlike loose parts with handling issues, PEM SMTSSS standoffs are supplied on tape and reel compatible with existing SMT automated installation equipment. Without a need for secondary installation operations that may inadvertently be performed improperly, board damage and costly scrap can be avoided.
PEM SMTSSS standoffs are manufactured from carbon steel and are available in unified lengths .250" or .375" and metric lengths 6 mm, 8 mm, or 10 mm. They will install reliably in boards and panels as thin as .060" and 1.53 mm. Detailed specifications, fastener drawings and 3D models, and performance data (Bulletin SMTSS) for these fasteners can be viewed and downloaded for free on the PEMNET Website: http://www.pemnet.com/
Contact This Company Download Spec Sheet
More from Fasteners & Hardware