PCI DI/DO Cards offer 128 digital input/output channels.
Press Release Summary: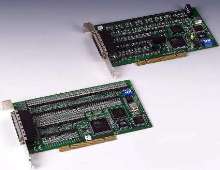 Models PCI-1758UDI and PCI-1758UDO are digital input/output cards with universal PCI bus, BoardID(TM) switch, and high-voltage isolation. PCI-1758UDI has interrupt function for each of 128 digital input channels and digital filter function, which provides de-bouncing for switches and relays. PCI-1758UDO features watchdog timer and user-configurable power-up states. Both cards support systems with 5 or 3.3 V signaling and can withstand up to 2,500 Vdc.
---
Original Press Release:

Isolated 128-Channel Universal PCI DI/DO Cards Released by Advantech


High-density isolated cards allow more applications at once

Cincinnati, Ohio (September 15, 2004) - Advantech Corporation, Industrial Automation group is proud to release two high-density isolated digital input/output cards, the PCI-1758UDI and PCI-1758UDO. These cards make it possible to supervise and control more industrial applications at once. PCI-1758UDI features interrupt and digital filter functions for each channel, while the PCI-1758UDO features a watchdog timer and programmable power-up status functions.

Both the PCI-1758UDI and PCI-1758UDO have a universal PCI bus, a wide input/output range and a BoardID(TM) switch for flexibility and easier installation. High-voltage isolation makes the PCI-1758UDI and PCI-1758UDO work reliably in industrial environments.

The PCI-1758UDI has an interrupt function for each of its 128 digital input channels, which makes configuration easier. A digital filter function reduces noise, glitches and spikes on input channels and provides de-bouncing for switches and relays.

The PCI-1758UDO features a watchdog timer function to set critical outputs to safe states in the event of application, driver, OS and PCI bus failures. Its user-configurable power-up states are ensures the PCI-1758UDO powers up in a known state. This feature protects a recovering host system from receiving incorrect signals.

Through its isolation design, the PCI-1758UDI/UDO provides features such as electronic protection from spikes, signal quality improvement, common-mode voltage and noise improvement, wide I/O range and direct connection to sensors and actuators. The PCI-1758UDI/UDO can withstand up to 2,500 VDC, which makes it ideal for industrial applications where high-voltage isolation is required such as machinery automation, industrial control, automated manufacturing, and test and product line verification.

With a universal PCI bus, the PCI-1758UDI and PCI-1758UDO support both traditional systems with 5 V signaling and newer systems with 3.3 V signaling. The built-in BoardID DIP switch helps define each card's ID when multiple cards are installed on the same PC, making installation a breeze.

Both cards are aimed at meeting demands of specific applications such as industrial On/Off control, relay & switch monitoring and controlling, industrial and lab automation, complex machine building and semiconductor production facilities. With features such as wide-range input/output voltage, 128 digital input/output channels with interrupt function and robust isolation, Advantech is confident that the PCI-1758UDI and PCI-1758UDO represent an excellent choice for high-end machine and testing equipment builders.

The PCI-1758UDI and PCI-1758UDO are available for Windows® /98/2000 /XP with full support for drivers.

The PCI-1758UDI/UDI is available for purchase now. Contact an Advantech sales representative at 1-800-800-6889 today to find out more about high-density input/output PCI cards.

Advantech Corporation, Industrial Automation Group - Founded in 1983, the Industrial Automation Group of Advantech Corporation is the only complete PC-based Industrial Automation Solution Manufacturer offering products such as Industrial PCs, Workstations, Panel PCs, Flat Panel Monitors, Heavy Environmental PCs, Customized PCs, Single Board Computers, Data Acquisition & Control Devices and Web-enabled products for a wide array of industries. Drawing on the talents of more than 1,800 people, Advantech operates an extensive sales and marketing network in 16 countries and 35 major cities to deliver fast time-to-market services to our worldwide customers. Today Advantech offers over 700 products and solutions, adding 30 new products each year. US operations for the Industrial Automation Group are based in Cincinnati, OH (877-294-8989). Address: 1320 Kemper Meadow Drive, Suite 500, Cincinnati, Ohio 45240. Web: advantech.com/eAutomation. Email: info@advantech.com

Brandon Rhoten
Advantech Corporation, Industrial Automation Group
phone: (513) 742-8895 x333
fax: (513) 742-0554
web: advantech.com/eAutomation
media info: http://www.advantech-eautomation.com/media

Related