Industrial / Specific Purpose Computers
PCI Communication Card features onboard DSP processor.
Press Release Summary: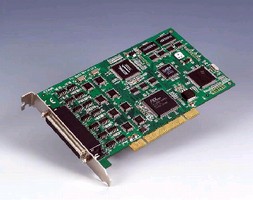 Suited for applications where PC needs to communicate with terminals, modems, or other instruments, 8-port PCI-1625U RS-232 Universal PCI Card has 1 MB of SRAM, which can store serial data and reduce host CPU load. ICOM Tools utility program will test PCI card performance by analyzing port status. Menu commands and toolbar buttons of ICOM Tools acts as PC-based data scope that lets user set trigger condition, capture communications data, and monitor signal status.
---
Original Press Release:

Advantech Launches 8-Port Intelligent RS-232 Universal PCI Communication Card



The PCI-1625U is an 8-port intelligent RS-232 universal PCI communication card starting at $225.

(Cincinnati, Ohio - 10/25/2006) - The eAutomation Group of Advantech introduces the PCI-1625U 8- port intelligent RS-232 universal PCI communication card. The PCI-1625U is virtually a self-contained computer that has an onboard DSP processor that will take over the processing load from the host PC.

The PCI-1625U has 1 MB of SRAM which can store serial data and reduce host CPU loading effectively. When the PCI-1625U initializes, it will download the driver software into its onboard DSP. There's a universal PCI connector that is compatible with both the 3.3 V PCI bus and the traditional 5 V PCI bus.

Included is a utility program called ICOM Tools that will test the PCI card performance by analyzing the port status. The menu commands and toolbar buttons of ICOM Tools act as a PC-based data scope that lets you set a trigger condition, capture the communications data, and monitor the signal status.

The PCI-1625U is designed for industrial applications where a PC needs to communicate with terminals, modems, or other instruments. You can install up to four PCI-1625U cards for total of 32 ports in any PCI bus-based PC.

The PCI-1625U starts at $225 and is available for purchase directly from Advantech at 1-800-205-7940 or from one of Advantech's North American distributors at eautomationpro.com/us.

Advantech Corporation, eAutomation Group - Founded in 1983, Advantech is a global leading ePlatform service provider integrating web-based technology, computing platforms and customization services that empower the connected eWorld. Advantech cooperates closely with system integrators to enable them in providing complete solutions for a wide array of applications in various industries. Advantech delivers more than a thousand products and solutions under 3 main categories: Embedded & Applied Computing, Industrial and Network Computing, and eAutomation. With the combined talent of more than 2,000 people, Advantech operates an extensive support, sales and marketing network in 16 countries and 28 major cities to deliver fast time-to-market services to our worldwide customers. US operations for the eAutomation Group, 1320 Kemper Meadow Drive, Suite 500, Cincinnati, OH 45240. Website for Advantech customers in North America: eautomationpro.com/us Email: info@advantech.com

Media website for more info, datasheets, etc.: http://www.advantech-eautomation.com/media
Chuck Harrell
Advantech Corporation, eAutomation Group
(513) 742-8895 x333
website: eautomationpro.com/us

More from Electrical Equipment & Systems