PCB Wash Tray Liner combines durability and compliance.
Press Release Summary: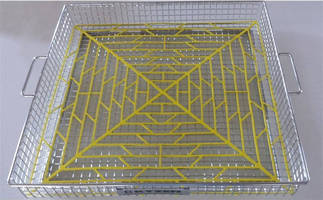 Made from nitrile rubber compound for use in PCB washing applications, model 41403 withstands abrasion, stretching, and tearing and may be used with soldering flux and other chemicals. This 0.072 x 18 x 18 in. liner fits baskets up to 18 in.² and can be trimmed to fit smaller baskets. Point to Point Resistance (RTT) of 1 x 106 < 1 x 109 Ω meets ANSI/ESD S20.20 worksurface required limit as well as recommendation of ANSI/ESD S4.1 for contact with ESD susceptible items.
---
Original Press Release:

Desco Introduces New PCB Wash Tray Liner



Chino, CA – Desco's new 41403 PCB Wash Tray Liner is used in PCB washing applications. It is made from a high strength nitrile rubber compound and withstands abrasion, stretching, and tearing. It may be used with soldering flux and other chemicals. It's dimensions are 0.072'' x 18'' x 18'' and fits baskets up to 18" square. It can be trimmed to fit smaller size baskets. It features a Point to Point Resistance (RTT) of 1 x 106 < 1 x 109 ohms. This meets ANSI/ESD S20.20 worksurface required limit and recommendation of ANSI/ESD S4.1 for contact with ESD susceptible items. The new PCB Wash Tray Liner is made in the United States of America



Please contact Service@Desco.com for more information.



About Desco:

Desco manufactures ESD control products used in the electronics production industry.

Desco has six manufacturing locations in the USA. Products made by Desco include wrist straps, foot grounders, work surface mats, shielding bags, floor finish, floor mats, ionization, smocks, continuous monitors and ESD audit equipment. Desco's products are available through distributors, resellers, and direct. A network of manufacturer representatives offers sales and technical support in most US states, Mexico, and Canada.



For additional information email Service@Desco.com or visit Desco.com



Contact:

Matt Hempel

909-627-8178

More from Packaging Products & Equipment