PC/104 Enclosure offers multiple configuration options.
Press Release Summary: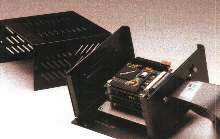 Fabricated from 0.0625 in. 5052 aluminum, Model ENC-104 measures 7.725 x 8.325 x 4.0 in. and accepts stack of up to 4 PC/104 or PC/104-Plus modules. It consists of chassis base, chassis cover, 2 end plates, square PC/104 module stack plate, and optional 40 W power supply. Chassis base attaches vertically on wall, on table, under counter, or inside equipment. Enclosure suits embedded applications requiring mounting inside NEMA boxes, OEM machinery, wiring closets, and equipment rooms.
---
Original Press Release:
Economical PC/104 Enclosure Offers Protection Plus Multiple Configuration Options for Module Stacks

PC/104 packaging allows designers to think outside the box!

August 25, 2003, Arlington, Texas - Responding to the need for a simple, low-cost enclosure for PC/104 modules, WinSystems today introduces the ENC-104. It is designed for embedded applications requiring mounting inside NEMA boxes, OEM machinery, wiring closets, equipment rooms, and other areas where it is necessary to protect a PC/104 embedded PC module stack. The ENC-104 allows a designer to package a variety of system configurations to quickly and easily take full advantage of the reliability, modularity and small size (90mm x 96mm) of PC/104 and PC/104-Plus modules.

The ENC-104 is small and lightweight yet designed for strength, durability, and functionality. Fabricated from 0.0625-inch rustproof 5052 aluminum, it weighs less than two pounds (without PC/104 modules installed). The enclosure's dimensions are 7.725" x 8.325" x 4.0". This size is small enough to mount inside equipment but large enough to accept a stack of up to four PC/104 or PC/104-Plus modules. The interior of the enclosure is large enough to install any PC/104 module even with latching I/O connectors. The additional room also simplifies cable routing plus supports service loops to connectors mounted on the end panels. The unit is finished with black hardcoat paint that resists scratches and fingerprints.

The enclosure is made of 5 items: chassis base, chassis cover, two end plates and a square PC/104 module stack plate. The chassis base is designed to mount in a variety of configurations. It can attach vertically on a wall, on a table, under a counter or inside a larger piece of equipment. It has a flange on the base with four slotted keyways to make installation and removal easy. The chassis cover can easily be removed to provide easy access during development or for maintenance and upgrades. The cover is slotted to allow convection cooling.

Additional design features include interchangeable end panels, pre-punched hole patterns and captive hardware. WinSystems offers 4 different end plates as well as an optional 40-Watt power supply that mounts to the end of the enclosure. For more custom applications, a user can easily make their own end plates to match the complement of their I/O card connectors and cabling requirements.

"The ENC-104 is the box within the box," said Jerry Winfield, President of WinSystems. "It provides a convenient, cost-effective package for PC/104 modules so that they can mount easily into OEM machinery or stand alone at equipment panels for industrial installations."

The ENC-104 is shipped pre-assembled with the appropriate hardware. The unit is easy to mount and only requires four #8 screws.

PRICING AND AVAILABILITY

The ENC-104-10's list price is $99. Delivery is stock to 3 weeks. For sales information, please list; WinSystems' Application Engineering Group at 715 Stadium Drive, Arlington, Texas 76011, Ph: (817) 274-7553, fax: (817) 548-1358, e-mail: [email protected] and Website www.winsystems.com.