Parallel and 3-Finger Grippers handle strong duty applications.
Press Release Summary: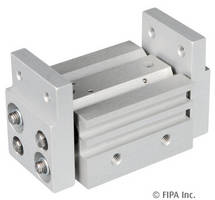 Suited for cylindrical workpieces, 3-finger parallel grippers bring workpiece to defined position via self-centering gripper fingers and provide secure grip. Stroke spectrum ranges from 2-10 mm, and gripping forces range from 20-720 N. Parallel grippers for especially long strokes cover range from 20-200 mm and gripping forces from 20 to ~500 N. They are used, for example, in systems for handling of plane injection molded parts. Both grippers accommodate sensors for detecting piston position.
---
Original Press Release:

FIPA Moves: Powerful Gripping with Parallel Grippers



New gripping elements provide top flexibility

Strong duty and adaptable: FIPA (www.fipa.com) expands their assortment of gripper components by 3-finger parallel grippers and parallel grippers for particularly long strokes.

Customer-specific jaws ensure the geometric adaptation of the gripping elements to the workpiece. "With the new parallel grippers FIPA enables flexible solutions for special requirements in gripper construction", says Rainer Mehrer, FIPA President and Owner.

Each of the new parallel gripper models is equipped with a dual-action cylinder which applies the full force to the jaws in both positions. The new parallel grippers can be employed for internal and external gripping. Thus the design engineer for gripper solutions has jaws with very flexible applications at his disposal.

The 3-finger parallel grippers are primarily suitable for handling cylindrical workpieces. The self-centering gripper fingers, bringing the workpiece to a defined position and providing a secure grip, are quite beneficial. The stroke spectrum ranges from 2 mm to 10 mm.

The parallel grippers for especially long strokes cover a stroke range from 20 mm to 200 mm and gripping forces up to approx. 500 N. They are used, for example, in gripper systems for the handling of plane injection molded parts. Adaptation to the shape of the workpiece is achieved by jaws which FIPA manufacturers according to customer requirements.

Both gripper families are prepared to accommodate sensors. Electromagnetic proximity sensors for the sensing of the piston position are available. The control electronics can thus determine indirectly whether the gripper jaw is open or closed. Disruptions of the compressed air supply to the gripper element are detected with this method. The user benefits from greater process reliability and less rejects. In addition, costly damages to tools are prevented.

Monitoring of the gripping function by indirect sensing is useful especially with complex gripper systems with many compressed air lines.

> Sizes for each requirement: 3-finger parallel grippers are available in sizes with strokes from 2 mm to 10 mm and a weight from 62 g to 1,850 g. Parallel grippers for long strokes are available in 18 sizes with strokes from 20 mm to 200 mm and a weight from 280 g to 7,900 g.
> Great gripping force with lightweight design: Depending on the size and the operating pressure, gripping forces between 20 N and 720 N can be realized with 3-finger parallel grippers. Parallel grippers for long strokes achieve gripping forces between 20 N and approx. 500 N.
> Rugged materials: Housings and fingers of the gripper elements are made of high-strength aluminum alloy. Piston, rack and pinion are made from steel. This construction ensures low weight and long service life.

Individual requirements - customized gripping jaws
An active gripping element needs customized jaws to adapt to the workpiece to be handled. Again, FIPA provides flexible solutions through customer-specific jaws in different shapes and supports. For example: Special elastomer supports from HNBR allow for the gentle gripping of hot workpieces up to temperatures of 140 ¢XC. The pads can simply be replaced during maintenance work.

FIPA is an international company, operating in the fields of Vacuum Technology and End-of-Arm-Tooling. We specialise in developing and marketing quality products and innovative solutions for all aspects of material flow systems. FIPA's headquarter is based in Ismaning near Munich/Germany since 1985 and is characterised by sustained growth. Current and comprehensive information at www.fipa.com.

More from Mounting & Attaching Products