Panel Potentiometer provides 1 million cycles.
Press Release Summary: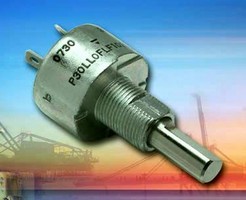 Measuring 19.7 mm diameter, 2 W Sfernice P30L features fully sealed IP67 package with pure Sn terminals and cermet element. Unit offers max operating torque of 4.25 oz/in., end stop torque of 99 oz-in., and 4 resistance values from 1-50 kW over 44.7-300 V working range, with 3% typical contact resistance variation. Operating temperature range of -40 to +100°C ensures reliable operation even in extreme environments.
---
Original Press Release:

New Vishay Sfernice P30L Panel Potentiometer



Features Long Life of 1 Million Cycles and Low Temperature Coefficient Down to ±150 ppm/°C in Compact, Fully Sealed IP67 Package

Device Offers High 2-W Power Rating at 70°C, High Operating Torque of 4.25 Oz-Inch, and Cermet Resistive Element For Greater Reliability and Robustness in Industrial Control Application

MALVERN, PENNSYLVANIA January 18, 2008 Vishay Intertechnology Inc. (NYSE: VSH) today announced a new long-life, compact panel potentiometer with a high 2-W power rating, low temperature coefficient, and high operating torque.

While standard panel potentiometers reach 100,000 cycles, the P30L offers a long life of 1 million cycles. For designers, this reduces the need for replacement parts, increasing reliability and lowering maintenance costs.

Featuring a fully sealed IP67 package with pure Sn terminals, the potentiometer is intended for industrial control panel, heavy-duty control, automotive and off-road control, and harsh environment applications in end products including trucks and tractors, machine tools, HVAC systems, welding machines, and military, agricultural, and water-resistant equipment.

With only a 19.7-mm diameter, the new device offers designers a compact alternative to other 2-W panel potentiometers. Its cermet element provides better stability than carbon elements, while its 2500-VRMS dielectric strength offers greater reliability and robustness. Custom shafts are available in accordance to drawings supplied by customers.

The new Vishay Sfernice device offers a high maximum operating torque of 4.25 oz. per inch, and an end stop torque of 99 oz. per inch. The potentiometer features four resistances values from 1kW to 50kW over a 44.7-V to 300-V working range, with a low 3% typical contact resistance variation. An operating temperature range of -40°C to +100°C ensures reliable operation even in extreme environments.

Samples of the P30L are available now. Production quantities will be available in Jan. 2008, with lead times of eight to 10 weeks for larger orders. Pricing is $11.00 per unit in small quantities, and $7.00 per unit in large quantities.

Vishay Intertechnology, Inc., a Fortune 1,000 Company listed on the NYSE (VSH), is one of the world's largest manufacturers of discrete semiconductors (diodes, rectifiers, transistors, and optoelectronics and selected ICs) and passive electronic components (resistors, capacitors, inductors, sensors, and transducers). These components are used in virtually all types of electronic devices and equipment, in the industrial, computing, automotive, consumer, telecommunications, military, aerospace, and medical markets. Its product innovations, successful acquisition strategy, and ability to provide "one-stop shop" service have made Vishay a global industry leader. Vishay can be found on the Internet at www.vishay.com.

Vishay Contact: Andrew Post
Global Communications Manager
Vishay Intertechnology, Inc. Tel: +1 (610) 251-5287
Fax: +1 (610) 889-9429
andrew.post@vishay.com

Reader Contact: Fred Lovera
Vishay Intertechnology, Inc. Tel: + (33) 4 93 37 2950
Fax: + (33) 4 93 37 2730
frederic.lovera@vishay.com

More from Construction Equipment and Supplies