Industrial / Specific Purpose Computers
Panel PCs have expansion slots for added versatility.
Press Release Summary: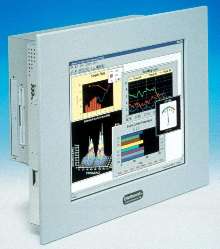 Network-ready FPB series computers combine 1 or 2 expansion slots with 12.1 or 15 in. displays and NEMA 4 sealed front panel. Single-slot models have one PCI/ISA slot, while 2-slot models employ and additional PCI slot. Equipped with Intel® Pentium® III 850 MHz CPU or Celeron® 700 MHz CPU, units include 10/100Base-T Ethernet port; 128MB RAM; 20 GB, 2.5 in. hard drive; slim CD-ROM and floppy disk drives; and Windows® 98 operating system.
---
Original Press Release:
Expansion Slots Add Versatility to Panel PCs

Most panel PCs have no expansion slots, so they're hard to use for data acquisition or motion control. Now, the FPB series of Panel PCs from CyberResearch® combines 1 or 2 expansion slots with 12.1" or 15" displays and a NEMA 4 sealed front panel. One-slot models have a single PCI/ISA slot. Two-slot models add a PCI slot.

These network-ready PCs include a 10/100Base-T Ethernet port, two or three COM: ports, a parallel printer port, and PS/2 Mouse and keyboard connectors.

One-slot models also offer 2 USB ports, while two-slot models provide external ATA/IDE connectors and floppy-drive connectors. Analog-resistive touch-screens are optional on all models.

Included as standard equipment on each unit are 128MB RAM, a 20GB 2.5" hard drive, a slim CD-ROM drive, a slim floppy disk drive, a 70W power supply, and a Windows® 98 operating system. A DiskOnChip® socket supports optional solid-state flash memory modules. A removable cover on the back of the PC allows easy access to expansion slots.

FPB PCs from CyberResearch, Inc. can be equipped with either an Intel® Pentium® III 850 MHz CPU or a Celeron® 700 MHZ CPU.

In addition to panel PCs - now shipping from stock - CyberResearch, Inc., also offers rack-mount and desktop PCs, as well as CPU cards, data-acquisition, and motion-control systems. For more product information, call Joe Tetreault at 800-341-2525, or visit www.cyberresearch.com.
More from Software