Panel Fasteners feature anti cross-thread technology.
Press Release Summary: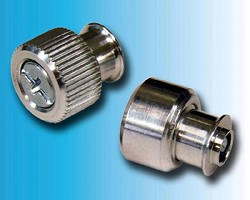 Designed for permanent installation into any panel hardness or material, PEM® Threaded Flare-In Type PF11MF features knurled cap and meets UL 508 operator access area requirements, while Type PF12MF has smooth cap and meets UL 1950 service access area requirements. MAThread® anti cross-threading technology corrects off-angle installations, aligning components and sliding through potentially clogged internal threads. Thread sizes range from No. 4-40 through ¼-20 and M3-M6.
---
Original Press Release:

PEM Flare-In Access Hardware Features Anti Cross-Thread Technology



New PEM® threaded flare-in access hardware introduces a captive screw assembly for permanent installation into most any panel hardness or material. Their patented MAThread® anti cross-threading screw technology provides added value by correcting off-angle installations, reliably aligning components, and easily sliding through potentially clogged internal threads.

These flare-in panel fasteners (Type PF11MF with knurled cap and Type PF12MF with smooth cap) enable subsequent access to an assembly. Type PF11MF meets UL 508 "operator access area" requirements and Type PF12MF meets UL 1950 "service access area" requirements. Captive screws keep parts to a minimum and intact.
Thread sizes range from #4-40 through ¼-20 and M3 through M6 and the anti cross-thread feature promotes quick installation. As threads come into contact, the anti cross-thread begins to cam over the female thread; the two thread helixes align; and fasteners drive quickly and properly with reduced effort.

The panel fasteners install flush on the back side of a panel using minimal squeezing force with punch and anvil to flare their retainer. A shoulder on the retainer provides a positive stop to promote easier installation and improved performance. They are ideally suited for close centerline-to-edge applications and will not mar painted surfaces.

Detailed specifications (Bulletin PF11MF) and free part drawings (PEM CAD Library) for these RoHS-compliant panel fastener assemblies can be found at www.pemnet.com

Contact Michael J. Rossi, PennEngineering®, 5190 Old Easton Road, Danboro, PA 18916-1000 USA. Phones: 800-237-4736 (toll-free in the U.S.) or 215-766-8853; Fax: 215-766-0143. Web site: www.pemnet.com

(MAThread® is a registered trademark of MAThread Inc. and PEM® is a registered trademark of PennEngineering®.)

More from Fasteners & Hardware