Packaging Testing Tools suit manufacturing factory applications.
Press Release Summary: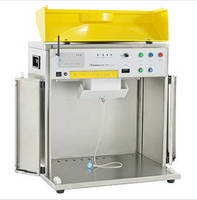 Testing systems of  i-Process series system comprise 3 major parts: testing instruments, wireless data receiving unit, and control center. Used for accelerated packaging testing and QC, products include seal tester, headspace gas analyzer, volume and weight tester, leak tester, and torque tester. Each is designed mechanically and functionally available for applications in manufacturing factory and can adapt critical manufacturing conditions as well as provide QC support.
---
Original Press Release:

i-Process Series Supports Testing in the Manufacturing Factory



i-Process series is a set of testing system newly developed by Labthink for quick packaging testing and quality control. Unlike testing instruments operated in a laboratory, i-Process series products are designed both mechanically and functionally available for applications in the manufacturing factory so that they may not only adapt the critical manufacturing conditions, but also provide quality control support for manufacturing processes.



It currently consists of 5 models of testing instruments, including seal tester, headspace gas analyzer, volume and weight tester, leak tester, as well as torque tester.



i-Process series testing system consists of three major parts: testing instruments, wireless data receiving unit, and control center. The testing instruments can be located at any process of the production line for tests of packaging critical control points (CCPs). after each test. The wireless data receiving unit constantly uploads received data to the control center which is installed with a database for data parsing and storage and a data processing software (i.e., ULab Testing Data Integrated Platform) for data management and analysis.



Labthink International, Inc.

is a global enterprise that provides professional quality control solutions for packaging materials and products, headquartered in Greater Boston, Massachusetts. Our core businesses include the R&D of laboratory testing instruments, packaging testing and test data processing services. We are dedicated to providing integrated professional quality control solutions for packaging manufacturers, food and beverage producers, medical and pharmaceutical companies, and daily chemical and printing industries.



Labthink International, Inc.

200 River's Edge Drive, Medford, Massachusetts, 02155, U.S.A.

Phone: +1-617-830-2190

FAX: +1-781-219-3638

Email: info@labthinkinternational.com

Website: http://www.labthinkinternational.com

More from Sensors, Monitors & Transducers