Packaging Tester measures puncture force of rubber stoppers.
Press Release Summary: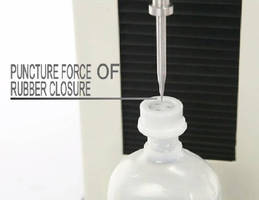 In addition to determining puncture force of medical rubber closures, i-Meditek 1300 Medical Packaging Tester can measure pullout force of rubber closure, break force of ampoule, sliding resistance of syringe, connection force of syringe needle and needle hub, and seal performance of plastic blood bag. Instrument can also test tensile strength, peeling force, tearing force, piercing force, and opening force of films, adhesives, foils, fabrics, and other packaging materials.
---
Original Press Release:

Tester is Used for Puncture Force Test of Rubber Stoppers



i-Meditek 1300 Medical Packaging Tester is designed to determine the puncture force of medical rubber closure, pullout force of rubber closure, break force of ampoule, sliding resistance of syringe, puncture force of syringe needle, connection force of syringe needle and needle hub, connection force of syringe needle hub and shield, seal performance of plastic blood bag, and the performance of other medical appliances. As well, i-Meditek 1300 could test the tensile strength, peeling force, heat seal strength, deformation, tearing force, adhesive performance, piercing force, opening force, low speed unwrapping force and pullout force etc. of plastic films, composite materials, flexible packaging materials, plastic soft tube, adhesives, adhesive tapes, protective films, combination caps, aluminum foils, diaphragms, back sheets, non-woven fabrics, rubber, release paper and other products.



A: Prepare test specimens according to specific standards. Adjust the sample grips and mount the specimen. Prepare 10 rubber closures to be tested and another 10 rubber closures with already known puncture force and then mount the rubber closures to corresponding infusion bottles. Fix the infusion bottle with rubber closure in the device for puncture test. Wipe the needle with acetone and make sure the needle is sharp then install the needle in the device for puncture test so that the needle could puncture the rubber closures from the center of them.



B: Select "Puncture Force Test of Rubber Closure" in test mode to create new test. Then set up test parameters and specimen parameters.



C: Click "Test" button to start the test. The test curves will be displayed in real time. When a single test is finished, the upper sample grips will return. When the upper sample grips return, the test results will be calculated automatically and it will return to the result interface. If necessary, mount next specimen and click "Test" button. When all tests are finished, click "Generate Result".



Labthink International, Inc.

200 River's Edge Drive, Medford, Massachusetts, 02155, U.S.A.

Phone: +1-617-830-2190

FAX: +1-781-219-3638

Email: info@labthinkinternational.com



Labthink Instruments Co., Ltd.

144 Wuyingshan Road, Jinan, P.R.China

Phone: +86-531-85068566

FAX: +86-531-85812140

Email: trade.en@labthink.cn



More from Packaging Products & Equipment