Pack Expo 2008: Bosch Rexroth to Exhibit Full-Line Automation Solutions for Sustained Competitive Advantage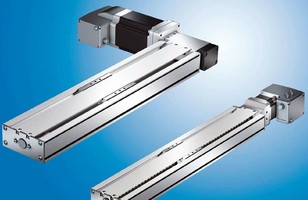 Bosch Rexroth will showcase complete line automation solutions from process to final packaging with working machinery demonstrations at Pack Expo 2008 to help solve automation challenges such as uptime, productivity, ease of use, connectivity, reduced cost and sustainability

(Chicago, IL - www.boschrexroth-us.com/packaging) Bosch Rexroth, the Drive and Control Company, will exhibit at Pack Expo 2008 in booth # 4634 with full-line automation products from its electric drives and controls, pneumatics and linear motion and assembly technology groups. The company will demonstrate how to solve typical food and packaging challenges such as uptime, productivity, ease-of-use, connectivity, reduced cost and sustainability.

In addition to product displays, attendees will see Rexroth exhibits involving working packaging equipment including: gantry and delta robots, a horizontal form-fill-and-seal machine from C.P. Packaging, and a bottle filler from Evergreen Packaging showing Rexroth's full-line automation solutions for sustained competitive advantage.

Rexroth product highlights in the booth will include:

Pneumatics: New RTC Rodless Cylinders

Designed for high precision, compact dimensions, high performance, or cost-effectiveness, Rexroth RTC rodless cylinders are available in four versions. The basic version RTC-BV (Basic Version) is suitable for universal use, while the RTC-CG (Compact Guide) version offers high precision with compact dimensions. The RTC-EG (E-line Guide) represents the most cost-effective guided version of the new rodless cylinders. The RTC-HD (Heavy Duty) version is designed for handling heavy loads.

The RTC series is available in diameters of 16-80 mm (5/8"-3") and with a maximum stroke length of 9,900 mm (32.5 ft.), depending on version and size, and is available with ISO-G or NPT ports.

Controls: MLC V4 Motion Logic and Robotics Controller

The Rexroth MLC motion logic controller with Version 4 firmware is based on a powerful one-gigahertz PAC controls platform that provides high-performance motion logic and robotics capabilities. Rexroth's advanced platform supports an all-Ethernet interface for connecting controls, drives, I/Os, safety, HMI, web and machine-to-machine synchronization, which helps to lower the controls cost and simplify integration for OEMs, systems integrators and end users.

Suitable for the most sophisticated packaging and robotics applications, Rexroth's MLC controls up to 16 robotic kinematics concurrently and up to 64 axes of motion and logic on a single controller. The latest Version 4 firmware also provides advanced camming and Flex Profile capabilities to help reduce engineering time and improve cycle time efficiencies of a machine or entire packaging line. With Flex Profile, cams can be multi-segmented and cycle times can be optimized for velocity, acceleration, position or time to avoid having to rebuild cams each time a parameter changes.

Flexible Conveyors: VarioFlow Guide System

Rexroth's new VarioFlow Generation 2 Guiding System provides all the framing profile, brackets, covers, and connectors needed to build cost-effective and application-specific conveyor guides for the company's family of VarioFlow 65/90 and VarioFlow S flexible chain conveyors.

The entire system uses one common fastener size and requires only one size allen head wrench for assembly and adjustment. All brackets, spacers and connectors are molded of carbon and glass-loaded nylon for strength. System components have excellent washdown characteristics. Options for the new framing profile include aluminum, aluminum with plastic covers, plastic, and the ability to use existing 12 mm diameter stainless steel guides or stainless-backed plastic guides.

Linear Motion: eLINE Compact Modules

Rexroth's new eLINE Compact Modules provide an economical and maintenance-free solution for packaging applications with less rigorous linear motion speed and load requirements up to 60 kg.

Smooth motion comes from two integrated Rexroth eLINE Ball Rail hybrid guideways that combine the weight advantages of aluminum with the toughness of the hardened steel inserts. The modules are available as the eCKK ball screw-driven version and the eCKR belt-driven version, in profile sizes of 90 and 110mm. Total cost of ownership for the modules is reduced, thanks to features like easy programming and start-up with an integrated stepper motor with positioning control, factory pre-lubrication and a configurable online 3D CAD generator. The modules are easy to connect with Rexroth's camoLINE connectivity system.

With its showcase of full-line automation solutions Bosch Rexroth is demonstrating how companies can get faster changeovers, reduce waste and make productive, sustainable use of all of their materials.

For more information about Rexroth's full-line automation solutions for food and packaging, visit www.boschrexroth-us.com/packaging.

Bosch Rexroth AG, part of the Bosch Group, achieved sales of approximately $7.4 billion (5.4 billion Euros) in 2007 with nearly 33,000 employees. Under the brand name of Rexroth the company offers all drive and control technologies, from mechanics, hydraulics and pneumatics to electronics and associated service. Over 500,000 customers worldwide utilize Rexroth's unique technological know-how to implement their innovative and future-oriented systems and machine concepts. The global player, represented in over 80 countries, is an extensive supplier of components and systems for industrial and factory automation and mobile applications. Visit www.boschrexroth-us.com for more information.


More from Electrical Equipment & Systems