Ozone Injection System provides water loop sanitization.
Press Release Summary: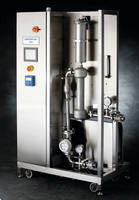 Designed for pharmaceutical and high purity water systems, LIQUOZON® Ultra turn-key automated ozone injection system generates ozone, dissolves it into water, and delivers degassed and bubble-free ozone-enriched water. System is equipped with flow rate and ozone concentration controllers, ozone safety monitors, control panel with recorder to monitor quality, with optional TOC meter. Compact, skid-mounted system can handle water flows of 10-30 gpm with minimal pressure drop.
---
Original Press Release:

MKS Introduces LIQUOZON® Ultra Ozone Sanitation System



A safe, efficient alternative for pharmaceutical applications

Andover, MA, October 8, 2009 - MKS Instruments, Inc. (NASDAQ: MKSI), a global provider of technologies that enable advanced processes and improve productivity, has introduced the LIQUOZON® Ultra, an Ozone sanitization system for pharmaceutical and high purity water systems. LIQUOZON® Ultra provides a clean, safe and efficient water loop sanitization alternative to heat and chemicals. The fully integrated LIQUOZON® Ultra is a turn-key automated ozone injection system that generates ozone, dissolves it into water and delivers degassed and bubble-free ozone-enriched water, providing a cost-effective system sanitization method.

The compact, skid-mounted LIQUOZON® Ultra can handle water flows of 10 to 30 gpm and higher with minimal pressure drop. The system is equipped with flow rate and ozone concentration controllers, ozone safety monitors, a control panel with a recorder to monitor quality, with an optional TOC meter. Safety features include alarm signals for high/low concentration, and interlocked ozone leakage detector. Minimum connections allow for fast and easy installation.

The LIQUOZON® Ultra system generates ozone using silent discharge MKS ozone generators and multi-point ozone measurement. It injects the ozone into DI water then degasses the ozone-enriched water and delivers it to the storage tank and delivery loop. UV light can be used to photo-dissociate ozone to an undetectable level in water at the beginning of the loop. Product water can be used immediately after the UV destruct.

About MKS:

MKS Instruments, Inc. is a global provider of instruments, subsystems and process control solutions that measure, control, power, monitor and analyze critical parameters of advanced manufacturing processes to improve process performance and productivity. Our products are derived from our core competencies in pressure measurement and control, materials delivery, gas composition analysis, electrostatic charge management, control and information technology, power and reactive gas generation, and vacuum technology. Our primary served markets are manufacturers of capital equipment for semiconductor devices, and for other thin film applications including flat panel displays, solar cells, data storage media, and other advanced coatings. We also leverage our technology in other markets with advanced manufacturing applications including medical equipment, pharmaceutical manufacturing, and energy generation and environmental monitoring.

Corporate contact:
MaryAnn Naddy
Phone: 978-645-5538
Fax: 978-557-5100
MaryAnn_Naddy@mksinst.com