Oxide Free Titanium Welds with the PurgEye® Desk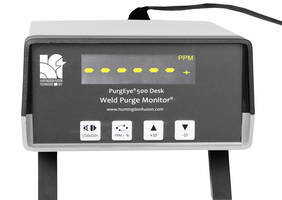 The Welding Institute states that "Titanium is a reactive metal; it will burn in pure oxygen at 600°C and in nitrogen at around 800°C. Oxygen and nitrogen will also diffuse into titanium at temperatures above 400°C raising the tensile strength but embrittling the metal. Despite this reactivity titanium is used extensively in chemical processing, offshore and aerospace applications."
In critical welding applications, it is therefore crucial that the oxygen level surrounding the weld is purged of oxygen to 50 ppm or lower. Measuring the oxygen level is the most efficient way to know exactly when to commence welding.
The PurgEye® Desk is leading the way in inert gas purging technology by reading oxygen levels from 1,000 ppm, right down to levels as low as 1ppm (highly accurate to 10 ppm), ensuring titanium welders achieve perfect oxide free, zero colour welds time and time again.
Manufactured by Huntingdon Fusion Techniques HFT®, the PurgEye® Desk is equipped with HFT®'s revolutionary PurgeNet™, for the in-line connection of additional accessories that allows the Weld Purge Monitor® to control welding systems based upon oxygen level as well as to provide indications of high and low oxygen levels.
Ron Sewell, Chairman for HFT® said: "Titanium parts are often welded inside a welding enclosure, where the entire atmosphere surrounding the weld can be kept at a controlled level of oxygen. The PurgEye® Desk is ideal for use with Welding Chambers, cabinets and flexible enclosures, as well as with Orbital Welding Machines and other Automatic Welding Systems."
The rugged, high frequency proof PurgEye® Desk has automatic fault finding diagnostics that can detect and report a number of possible faults. It also features an OLED (organic light emitting diode) display giving brighter, sharper readings at longer distances.
With a unique, fast response, long-life sensor having little maintenance requirement, the PurgEye® Desk Weld Purge Monitor® comes complete with an integral pump to deliver the exhausting purge gas to the measuring sensor on a consistent basis to allow precision control of the welding systems.
Applications for the PurgEye® Desk can be found in ultra clean conditions, such as in cryogenics, food, drinks, semi-conductor, aerospace, pharmaceutical sectors as well as other industries where titanium is used for its light weight and high strength-to-weight ratio.
Made in Wales – Manufacturer or Year 2019!
For further information, please contact:
Michaela Hess, Marketing and Social Media Manager
Huntingdon Fusion Techniques HFT®
Press: michaelahess@huntingdonfusion.com
Sales: hft@huntingdonfusion.com
www.huntingdonfusion.com
Huntingdon Fusion Techniques HFT® are Weld Purging Innovators, Designers and Manufacturers with offices located globally.      
Huntingdon Fusion Techniques HFT® invented the 'Weld Purge Monitor®' in 1975 and own all international intellectual property rights and registered trademarks.  
Weld purging is the act of removing, from the vicinity of the joint, oxygen, water vapour and any other gases or vapours that might be harmful to a welding joint. Such gases may combine with the metal to form undesirable compounds that may reduce corrosion resistance or may be instrumental in creating cracks or other structural defects in metals.
More from Agricultural & Farming Products