OWON XDS3104E Oscilloscope offers a waveform refresh rate of 45,000 wfms/s.
Press Release Summary: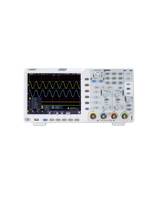 OWON XDS3104E Multi-Function Oscilloscope is integrated with advanced trigger functions, Wi-Fi and App support. Unit features I2C, SPI, RS232, CAN serial decoding functions and a 8-bit resolution ADC. Oscilloscope offers USB host, USB device, USB port for PictBridge, LAN interfaces and features 8 in. 800 x 600 resolution multi-touch screen. Product is suitable for medical, automotive, power supply applications and comes with 100 MHz bandwidth with 1GS/s sample rate.
---
Original Press Release:
New OWON XDS3104E n-in 1 Multi-Function Oscilloscope Released By NorthTree Associates
The OWON XDS3104E n-in-1 Oscilloscope is one of the latest product releases from OWON. With 8-bit resolution, the XDS3104E offers the best solution for those who need to measure small signals or be able to read details from a large signal.
In having 8-bit resolution, the OWON XDS3104E Oscilloscope is equipped with advanced technology and functions such as advanced trigger and decoding functions, Wi-Fi and App support along with a capacitance touch screen. Highly suitable for Medical, Automotive, Power Supply, and more.
Additionally, the OWON XDS3104E Oscilloscope is complete mobile test station. It has incorporated the ultra-thin design of the OWON SDS series oscilloscope along with its capability of being a complete test station. The XDS3104E adds to its flexibility the modules:
100MHz Bandwidth, 1GS/s sample rate
8-bit high resolution ADC
40M record length 45,000 wfms/s waveform refresh rate
Low back ground noise
8 inches 800 x 600 high resolution multi-touch screen, for a better operation experience
SCPI, and LabVIEW supported
Multi- trigger, and serial bus decoding functions - I2C, SPI, RS232, CAN (optional)
Multi-interface integration - USB host, USB device, USB port for PictBridge, LAN
Xvisual - The 3G Oscilloscope Technology Platform from OWON - a powerful n-in-1 on-site measurement station
OWON XDS series oscilloscopes come with the OWON 3rd generation technology platform - Xvisual, which advances the performance of the XDS series oscilloscopes over other oscilloscopes available. The new Xvisual platform consists of 3 parts: Low Base Noise, 40M Record Length, 75,000 wfms/s Refresh Rate. One of the main benefits of Xvisual is ease at which the measurement of small signals can be read, and the ability to fully restore the true status of signals.
The XDS series oscilloscope software, provides advanced trigger and protocol decoding functions to help engineers analyze serial bus protocols and quick positioning. The embedded Wi-Fi module ensures computers and cell phones can share the display screen to view and control the oscilloscope. Users can also check and save waveform data via App. By saving data via the App, data can be shared between other users.
With its large 8 inch capacitance touch screen (800 x 600), the OWON XDS3064E Oscilloscope has been designed to look and act similar to a Smartphone - thus being intuitive and easy to start using right out of the box.
Established in 2004, NorthTree Associates (Cologne, MN) is a North American Master Distributor for OWON oscilloscopes, multimeters, spectrum analyzers, waveform generators, and programmable power supplies. NorthTree Associates provides unique OWON Electronic Test & Measurement tools for design engineers, test engineers and production engineers. http://www.northtreeassociates.com/
More from Electrical Equipment & Systems