Oval Compression Limiters increase tolerancing flexibility.
Press Release Summary: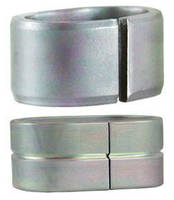 Available for plastic assemblies, Series CL400 Press-In and CL460 boh accommodate up to 2.25 mm extra clearance on one axis to provide flexibility for centerline and stack-up tolerancing. Series CL400 Oval Press-In, produced from carbon steel, consists of roll-formed, split-seam, oval compression limiter with spring tension, which provides positive retention in hole. While similar to oval Series CL400, Series CL460 Oval Molded-In is produced with butted-seam.
---
Original Press Release:
SPIROL Introduces Oval Compression Limiters
SPIROL is proud to announce the introduction of a standard line of Oval Compression Limiters to their suite of other Compression Limiters for plastic assemblies. The CL400 Press-In and CL460 Molded-In Oval Compression Limiters both accommodate up to 2.25mm extra clearance on one axis, providing additional flexibility over round Compression Limiters for centerline and stack-up tolerancing.

Series CL400 Oval Press-In: Produced from high carbon steel, this split-seam oval Compression Limiter is roll-formed, and spring tension provides positive retention in the hole. The roll-forming manufacturing method yields substantial cost savings over machined products with similar features and characteristics.

Series CL460 Oval Molded-In: The CL460 Series is similar to the oval Series CL400, but produced with a butted-seam so as to prevent plastic from entering the inner diameter during the molding process. Both are rated for use up to ISO Class 8.8 bolts.

SPIROL offers a variety of standard Compression Limiter series to accommodate different compressive loads, positional tolerances and installation methods.  Standard roll formed Compression Limiters include: Series CL200 and CL350 Split Seam designs, CL400 Oval Split Seam, CL460 Oval Molded-In and the Series CL500 Molded-In.  Standard machined options include: CL600 aluminum and CL601 headed aluminum Compression Limiters, and the CL800 brass and CL801 headed brass Compression Limiters.

Complimentary Applications Engineering Support:  SPIROL Engineers will review your application requirements and work with your design team to recommend the best solution at the lowest total assembly cost.  It all starts with our Optimal Application Engineering process. To start, please select Compression Limiters under the Optimal Application Engineering portal on the left hand side of this page, or contact the Sales department at any one of SPIROL's global locations.

SPIROL INTERNATIONAL CORPORATION is a leading manufacturer of a diverse line of engineered components for fastening and joining, including Coiled Spring Pins, Slotted Spring Pins, Solid Pins, Disc Springs, Alignment Dowels and Bushings, Spacers, Compression Limiters, Threaded Inserts for Plastics, Precision Shims, Pin and Insert Installation equipment. SPIROL can be found on 4 continents within the following 12 countries: Brazil, Canada, China, Czech Republic, England, France, Germany, Mexico, Poland, South Korea, Spain, and the United States. Since 1948, SPIROL has been providing technical expertise in fastening, joining and assembly to the world's leading manufacturers.

Involve SPIROL Engineering early in the design stage of your next project!
Contact This Company Download Spec Sheet
More from Electronic Components & Devices