Oscilloscopes optimize usability via OneTouch gesture control.
Press Release Summary: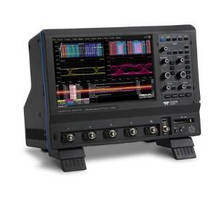 Available in 6 models with bandwidths from 500 MHz to 4 GHz and OneTouch gesture control, WaveRunner 8000 series provides tools and features to expedite problem solving. MAUI® UI facilitates measurement setup and accelerates insight into complex signal abnormalities, while math, measurement, debug, and documentation tools optimize analysis. While M models offer 40 GSPS sample rate and 128 Mpt memory, -MS models feature 16 digital channel sampling at 1.25 GSPS.
---
Original Press Release:

Teledyne LeCroy Debuts WaveRunner 8000 Oscilloscopes Featuring Revolutionary OneTouch Gesture Control



WaveRunner 8000 oscilloscopes add OneTouch gesture control to efficiently leverage a uniquely extensive toolbox and deliver faster time to insight



CHESTNUT RIDGE, N.Y. -- Teledyne LeCroy today introduces the WaveRunner 8000 oscilloscopes with bandwidths from 500 MHz to 4 GHz, which deliver an extensive toolbox coupled with a superior user experience to expedite solving debug problems. WaveRunner 8000 has the industry's widest and deepest collection of tools, making it unbelievably powerful. WaveRunner 8000 marks the debut of the next-generation MAUI(®) - most advanced user interface, bringing enhancements to the oscilloscope industry's premier UI. The addition of OneTouch to MAUI makes measurement setup insanely easy, providing users dramatically faster time to insight into complex signal abnormalities.



Unbelievably Powerful

The standard collection of math, measurement, debug, and documentation tools provides unsurpassed analysis capabilities. Application-specific packages enable streamlined debugging for common design/validation scenarios. Options include digital filtering, spectrum analysis, device and switching power supply analysis, and more. The advanced customization option enables user-defined parameters and math functions providing unique and limitless analysis capability. The WaveRunner 8000 has the greatest breadth and depth of tools, ensuring quick resolution of the most complicated debug tasks.



Insanely Easy

The WaveRunner 8000 and MAUI with OneTouch extends Teledyne LeCroy's long tradition of user-interface innovation. MAUI with OneTouch optimizes convenience and efficiency by enabling all common operations with a single touch of the display. MAUI with OneTouch has revolutionary drag-and-drop actions to copy and set up channels, math functions, and measurement parameters without lifting a finger. Common gestures such as drag, drop, pinch, and flick facilitate instinctive interaction with the oscilloscope. The "Add New" button quickly enables a new channel, math, or measurement while traces and parameters turn off with a flick of a finger. MAUI with OneTouch delivers a unique set of touchscreen gestures that simplifies measurement setup and brings unsurpassed efficiency and intuitiveness to oscilloscope operation.



Exceptional Serial Data Tools

Teledyne LeCroy offers a broad variety of optional software packages to equip WaveRunner 8000 for all serial data test requirements ranging from automated standards compliance packages to flexible debugging toolkits. A suite of protocol-specific measurement and eye diagram packages provides unparalleled insight into serial data anomalies. These unique packages complement the industry's most powerful trigger/decode software providing the ability to extract decoded data and plot over time, perform bus timing measurements, and create eye diagrams for testing against standard or custom masks. The -MS models have 16 digital lines which can be used for trigger, decode, and measurements for analyzing timing irregularities or for general-purpose debug of digital designs. This allows analog channels to be reserved for observing physical layer defects.



"M" Models for Maximum Sample Rate and Memory

With an industry leading sample rate of 40 GS/s, WaveRunner 8000M models enable detailed edge reconstruction, even for signals with the fastest rise times. Additionally, long memory allows maintenance of the maximum sample rate in longer timebases. The "M" models' deep 128-Mpt memory is ideal for debugging long-term behavior on high-speed serial data buses.



More information on Teledyne LeCroy's WaveRunner 8000 oscilloscopes can be found at teledynelecroy.com/wr8000.



Pricing and Availability



Available immediately, the WaveRunner 8000 is available in six different models with US list prices ranging from $14,000 to $29,900. Additionally, -MS versions of each model are available with 16 digital channel sampling at 1.25 GS/s for an additional $3,000. For further information, engineers and technicians can contact Teledyne LeCroy at 1-800-553-2769 or visit teledynelecroy.com



About Teledyne LeCroy



Teledyne LeCroy is a leading manufacturer of advanced oscilloscopes, protocol analyzers, and other test instruments that verify performance, validate compliance, and debug complex electronic systems quickly and thoroughly. Since its founding in 1964, the Company has focused on incorporating powerful tools into innovative products that enhance "Time-to-Insight". Faster time to insight enables users to rapidly find and fix defects in complex electronic systems, dramatically improving time-to-market for a wide variety of applications and end markets. Teledyne LeCroy is based in Chestnut Ridge, N.Y. For more information, visit Teledyne LeCroy's website at teledynelecroy.com.



© 2016 by Teledyne LeCroy. All rights reserved. Specifications are subject to change without notice.



Media contact: Hilary Lustig, Teledyne LeCroy (845) 578-6120



Customer contact:  Teledyne LeCroy Customer Care Center (800) 553-2769



Website: teledynelecroy.com



http://teledynelecroy.com

More from Mechanical Power Transmission