Oscilloscope optimizes signal visualization with large display.
Press Release Summary: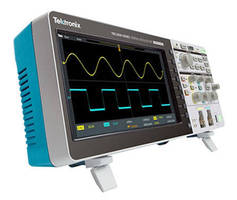 Used to prototype, debug, and validate designs of new products as well as general troubleshooting, TBS2000 features 9 in. WVGA display that can show 15 horizontal (time) divisions and facilitates signal visualization. Automatic waveform measurements, coupled with graphical explanations, help engineers better understand measurements. Available with 70 or 100 MHz bandwidth and in 2 or 4 channels, models also feature 20 Mpoint record length and Wi-Fi® dongle support.
---
Original Press Release:

New Scope Offers Best-in-Class Signal Visualization Starting at $1,200



Tektronix Strengthens Portfolio with New TBS2000 Next Generation Oscilloscope



BEAVERTON, Ore. -- Tektronix, a leading worldwide provider of measurement solutions, today introduced the TBS2000, a next generation basic oscilloscope featuring the longest record length and largest display in its class for faster signal evaluation and troubleshooting. This latest addition to the Tektronix portfolio puts expanded capabilities, including the ability to use a wide range of Tektronix probes, into the hands of budget-constrained design engineers and educators.



Experience the interactive Multimedia News Release here: http://www.multivu.com/players/English/7724651-tektronix-tbs2000-series-oscilloscope/



"Building on the success of the TDS2000 Series, the most widely used oscilloscope in the world, the new TBS2000 gives our customers a level of design insight previously not available in this class of instrument," said Jeff Yost, director, Basic Oscilloscopes, Tektronix. "The new instrument also sets a new standard for usability with features like a large display for easy signal visualization and a comprehensive set of automatic waveform measurements that are coupled with graphical explanations to help engineers better understand their measurements."



Design engineers use general-purpose oscilloscopes to prototype, debug and validate designs of new products and for general troubleshooting. In education, such oscilloscopes give students hands-on experience in electronics engineering and educators need to efficiently mentor and monitor large groups of students. The TBS2000 meets these requirements and more:



Models are available with 70 MHz or 100 MHz bandwidth and with 2 or 4 channels.

With a 9-inch WVGA display, the TBS2000 can display 15 horizontal (time) divisions allowing users to see 50 percent more signal than any other scope in this category.

A 20 Mpoint record length with single-knob pan and zoom provides the ability to capture long time duration signals and easily navigate to find important details.

Support for the Tektronix VPI probe interface – the first time for a low-cost Tektronix oscilloscope – allows users to use a wide range of Tektronix active probes at an affordable price.

New HelpEverywhere context-sensitive, configurable help provides on-screen tips for important settings.



Wi-Fi dongle support enables wireless connectivity so educators can easily set up electronics engineering labs or engineers can take advantage of the instrument's LXI-compliant interface to conveniently control the oscilloscope remotely.



Pricing & Availability

The TBS2000 will be available at Tektronix distributors beginning August 2, 2016 worldwide. Starting price is $1,200 US MSRP. For more information go to www.tek.com/tbs2000.



About Tektronix

Headquartered in Beaverton, Oregon, Tektronix delivers innovative, precise and easy-to-operate test, measurement and monitoring solutions that solve problems, unlock insights and drive discovery. Tektronix has been at the forefront of the digital age for over 70 years. Join us on the journey of innovation at TEK.COM.



CONTACT: Amy Higgins, Worldwide PR & Brand Manager, Tektronix, ahiggins@tektronix.com, 503.627.6497

More from Materials