Optically Isolated I²C Bus Repeater suits PoE applications.
Press Release Summary: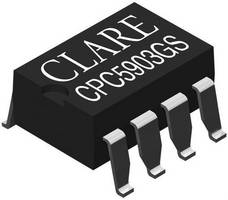 Operating from supply as low as 2.7 V, CPC5903 isolates 2 open-drain logic signals while providing 3,750 Vrms of galvanic isolation. Product enables isolated bidirectional I²C data signal and unidirectional clock signal, supports standard- and fast-mode I²C data rates, does not require any internal clocking, and supports direct static-state buffering without refresh clocks. Solution can also function as logic level translator for levels from 2.7-5.5 V.
---
Original Press Release:

IXYS-Clare Expands New Family of Optically Isolated I2C Bus Repeaters with the CPC5903



Beverly, Massachusetts, USA - IXYS-Clare, Inc., (NASDAQ: IXYS), announced the immediate availability of the CPC5903, an Optically Isolated I2C Bus Repeater and new addition to the enhanced-communications IC family. Similar to the recently released CPC5902, the CPC5903 is a dual, optically isolated, logic-bus repeater which isolates two open-drain logic signals while providing 3750Vrms of galvanic isolation. The CPC5903 device enables an isolated bidirectional I2C data signal and a unidirectional clock signal whereas the CPC5902 features bidirectional repeaters for both the I2C data and clock signals. The CPC5903 supports both Standard- and Fast-mode I2C data rates.

Previous designs for I2C bidirectional data and unidirectional clocking required an I2C driver IC and three optocouplers. The CPC5903 provides an integrated single package solution that minimizes PC board space and reduces part count. Unlike competitive magnetically isolated digital isolator ICs, transformer or capacitive isolators, Clare's optical solution requires no internal clocking (a primary source of EMI/RFI emissions in designs) and supports direct static-state buffering without refresh clocks. In addition, the unique design of the CPC5903 offers glitch-free operation as well as excellent reliability and very long operational life. Whereas most competitive devices work to a minimum supply range of 3.0V, the CPC5903 offers more design flexibility with a guaranteed operation as low as 2.7V. Hence, CPC5903 can also function as a logic level translator for levels as low as 2.7V or as high as 5.5V when either side of the isolation barrier is powered by different supply voltages.

The CPC5903 Optically Coupled I2C Bus Repeater is ideal for Power-over-Ethernet ('PoE') applications, providing buffering and isolation of the clock and data signals between the host controller and the Power Supply Equipment (PSE) controller. Additional applications include integrated signal monitoring and control, power supply high side interface, and I2C bus length extender and I2C logic level translation. The CPC5903 is certified to UL 1577 and EN/IEC 60950.

"The CPC5903 demonstrates our proven optical isolation technology, and ongoing commitment to expand our communications ICs family. This product provides enhanced isolation solutions for power management applications, especially for the growing use of 'PoE', said Mark Heisig, president of IXYS-Clare. "It provides the ability to monitor and communicate for the distributed power as provided by servers and PC through the USB port or the network".

Pricing and Availability
The CPC5903 is now available in sample and production quantities. For OEM quantities of 10,000 units, the CPC5903 is priced at $1.81, with standard lead-time of six weeks after receipt of order. The CPC5903GS is packaged as a small 8-pin surface mount package and the CPC5903G is an 8-pin DIP.

About Clare and IXYS, Inc.
Clare, Inc., a leader in the design and manufacture of solid-state relays and high voltage integrated circuits, is a wholly owned subsidiary of IXYS Corporation. IXYS Corporation develops and markets primarily high performance power semiconductor devices that are used in controlling and converting electrical power efficiently in power systems for the telecommunication internet infrastructure, motor drives, medical systems, Solar energy, Wind energy, electrical generators and transportation. IXYS also serves its markets with a combination of digital and analog integrated circuits, RF power products and power subsystems. Additional information about Clare and IXYS may be found at www.clare.com and www.ixys.com.

Please contact your local sales representative:
http://www.clare.com/home/pages.nsf/locate.rep

For More Information Contact:
info@clare.com

http://www.clare.com/Products/OptBusRepUniBi.htm
http://www.technology-news-reports.com/news/96717-ixys-clare-expands-new-family-of.html


More from Fluid & Gas Flow Equipment