Optically Isolated AC Power Switch offers dual-power SCR outputs.
Press Release Summary: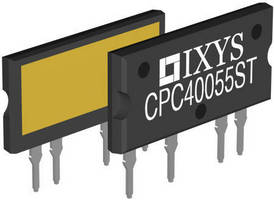 Specified with 800 V peak blocking voltage, CPC40055ST features tightly controlled zero-cross circuitry that ensures low noise switching of AC loads by minimizing generation of transients. SuperSIP package features process in which silicon chips are soft-soldered onto ceramic Direct Copper Bond (DCB) substrate. DCB ceramic provides 2,500 V(rms) isolation as well as 0.35 C/W thermal resistance. Switch can achieve 20 A(rms) output current when used with heatsink or 5 A(rms) without heatsink.
---
Original Press Release:

IXYS Introduces New 20A Optically Isolated AC Power Switch Utilizing Dual-Power SCR Outputs



The CPC40055ST is an 800V Device in Unique SuperSIP Package



Beverly, Massachusetts, USA — IXYS Integrated Circuits Division (ICD), Inc.,an IXYS Company, (NASDAQ: IXYS), announced the availability of the CPC40055ST 20A(rms), (5A free-air), AC Power Switch.  The CPC40055ST features zero-cross turn-on circuitry and is specified with an 800V peak blocking voltage. Tightly controlled zero-cross circuitry ensures low noise switching of AC loads by minimizing the generation of transients.



The CPC40055ST's optically coupled input and output circuits provide exceptional noise immunity and 2500V(rms) of isolation between the control input and the output. As a result, the CPC40055ST is well suited for industrial environments where electromagnetic interference would disrupt the operation of plant facility communications and control systems.



The unique SuperSIP package pioneered by IXYS ICD enables Solid State Relays to achieve the highest load current available in any similarly sized package and is pin-to-pin compatible with the industry standard AC Output Module. This package features a unique process in which the silicon chips are soft-soldered onto a ceramic Direct Copper Bond (DCB) substrate instead of the traditional copper leadframe. The DCB ceramic, the same substrate used in high power modules, provides not only 2500V(rms) isolation but also very low thermal resistance (0.35 C/W).



This device can be used with a heatsink to achieve 20A(rms) output current or without a heatsink to achieve 5A(rms).  The CPC40055ST requires only 5mA of input control current to operate. Additionally, the SuperSIP package meets UL508 (Industrial Controls) pin-to-pin distance requirements.



Combined with the IXYS-Zilog family of MCU's, this smart switch can provide an digitally controlled switch for power management, by which electrical power can be monitored and delivered based on the actual demand, thus improving power consumption efficiency.



Typical applications include AC motors up to 1/2 HP, off AC line Power control , high intensity lighting, UPS, Appliances and factory automation.



Pricing and Availability



The CPC40055ST is available in production quantities. OEM pricing is $4.52 in quantities of 25KU.



About IXYS ICD and IXYS Corporation

IXYS Integrated Circuits Division, (ICD), a leader in the design and manufacture of solid state relays and high voltage integrated circuits, is a wholly owned subsidiary of IXYS Corporation. IXYS Corporation develops and markets primarily high performance power semiconductor devices that are used in controlling and converting electrical power efficiently in power systems for the telecommunication and internet infrastructure, motor drives, medical systems and transportation. IXYS also serves its markets with a combination of digital and analog integrated circuits, power systems and RF GaAs and GaN based products. Additional information about IXYS Integrated Circuits Division, Zilog and IXYS may be found at www.ixysic.com, www.zilog.com and www.ixys.com.



http://www.ixysic.com/Newsroom/2014PR/PR_Apr102014.htm

http://www.ixysic.com/home/pdfs.nsf/www/CPC40055ST.pdf/$file/CPC40055ST.pdf

http://www.ixysic.com/Whatsnew/Whatsnew.htm

More from Electrical Equipment & Systems