Optical Repeater Module is designed for WCDMA networks.
Press Release Summary: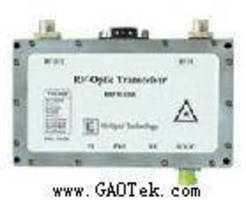 Offered with 9.6 and 19.2 kbit/sec data rates for selection, RF module monitors and controls optical output power, LD bias current, received optical power, input and output RF signal power of Master, received FSK signal power and RF Gain control through MCU. Features included are linear analog PD with high sensitivity and high power DFB laser, low noise, linear RF amplifier, as well as built-in Bi-Di components and FSK monitor.
---
Original Press Release:

RF Optical Module for WCDMA Optical Repeater



Toronto, Canada - GAO Tek Inc. (www.GAOTek.com) has rolled out an optical repeater module designed for WCDMA networks. The RF module is used to monitor and control optical output power, LD bias current, received optical power, input and output RF signal power of Master, received FSK signal power and RF Gain control through the MCU. It is also used for RoHS compliant products.

The optical module for the repeater includes a linear analog PD with high sensitivity and a high power DFB laser, a low noise, linear RF amplifier, as well as built-in Bi-Di components and FSK monitor. 9.6 and 19.2kbit/s data rates are provided for selection. In the slave, a laser with a wavelength of 1.5µm is selected as transmitter and an analog PD as optical signal receiver.

For more information about this RF optical module for repeater, please visit www.GAOTek.com or contact Sales@GAOTek.com.

About GAO Tek Inc.

GAO Tek Inc. is a leading provider of test and measurement equipment, embedded development tools, telecommunication testers, electronic measurement instruments, video surveillance, alarm and other electronic products that serve the needs of electronic professionals internationally.

For more information please visit www.GAOTek.com.

GAO Tek Inc. is a member of GAO Group, which also includes

o GAO RFID Inc. - www.GAORFID.com

o GAO Research Inc. - www.GAOResearch.com

o GAO RFID Asset Tracking - www.GAORFIDAssetTracking.com

o GAO Embedded - www.GAOEmbedded.com

o GAO Instruments - www.GAOInstruments.com

o GAO Comm - www.GAOComm.com

o GAO Fiber Optics - www.GAOFiberOptics.com

Company Name: GAO Tek Inc.

Address 1: 601 Milner Avenue, Third Floor

City: Toronto

State: OR

Zip: M1B 2K4

Country: Canada

Phone: 416-292-0038

URL: .GAOTEK.com

More from Electrical Equipment & Systems