Optical Diffusers are fully tunable.
Press Release Summary: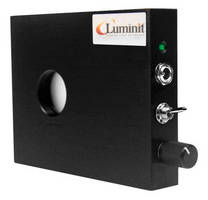 Utilizing liquid crystal film to vary degree of optical diffusivity from near-Lambertian to clear, Electronically Variable Optical Diffusers feature spectral range of 400–1,500 nm, 25 mm aperture, 85% transmission, 10–20 msec response time, and C-Mount mounting threads. Diffusion angles (FWHM) range from 1° in the clear state to 70° in the fully diffused state and can be continuously adjusted using control knob. Uses include research and prototyping as well as Life Sciences applications.
---
Original Press Release:

Electronically Variable Optical Diffuser Can Replace Full Lab of Diffusers



Provides continuous diffusion adjustment



Barrington, N.J.-Edmund Optics® (EO), the premier provider of optical components, announces the release of its new Electronically Variable Optical Diffusers. These versatile diffusers are fully tunable and offer excellent flexibility for a wide range of integration solutions.



Offers diffusion angles from 1° to 70°



Edmund Optics' Electronically Variable Optical Diffusers utilize a liquid crystal film to vary the degree of optical diffusivity from near-Lambertian to clear. The diffusion angle can be continuously adjusted using a convenient control knob. Diffusion angles (FWHM) range from 1° in the clear state to 70° in the fully diffused state. The diffusers feature a spectral range of 400-1500 nm, a generous 25 mm aperture, transmission of 85% and a fast response time of 10-20 ms. Featuring C-Mount mounting threads,, the Electronically Variable Optical Diffusers are compatible with Edmund Optics' full range of C-Mount components, facilitating integration with additional optics illumination, and sensors.



Ideal for research and prototyping



Electronically Variable Optical Diffusers are designed to replace a full lab of diffusers, excellent for research and prototyping uses. For example, during the prototype phase, the user can tune to the diffuser needed for the given application and then purchase a diffuser with those specifications for the final OEM application. Gregory Fales, Product Manager, Edmund Optics, added, "Electronically Variable Optical Diffusers feature a simple user interface and the diffuser's adaptability allows the user to tune to the customer's specific needs, making this an ideal choice for taking an optical system from design to prototype to production."



Ideal for Life Sciences Applications



Edmund Optics' Electronically Variable Optical Diffusers are ideally suited for applications including biophotonics research, holography, neutral density filtering, preventing oversaturation of detectors or optically characterizing materials. Electronically Variable Optical Diffusers are in-stock and available for immediate delivery for fast turnaround and excellent value.



About EO:



Edmund Optics® (EO) is a leading producer of optics, imaging, and photonics technology for RD, electronics, semiconductor, pharmaceutical, biomedical, and military markets around the globe. EO is the world's largest supplier of off-the-shelf optical components. Customers can purchase items by contacting EO at 1-800-363-1992, via the catalog, or via the website at www.edmundoptics.com.



Company Contact: 

Kirsten Bjork-Jones

Director Global Marketing Communications

Edmund Optics®, Inc.

101 East Gloucester Pike

Barrington, NJ 08007 U.S.A.

Phone: 1-800-363-1992

Fax: 1-856-573-6295

email: kbjork-jones@edmundoptics.com

More from Communication Systems & Equipment