Optical Comparators include attribute measuring tools.
Press Release Summary: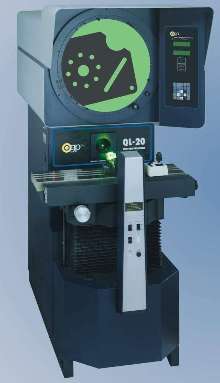 Floor model Contour Projectors® QL-20(TM) and QL-30(TM) feature 20 and 30 in. dia screens, respectively. Vertical design, with 32 x 8 in., nickel-plated worktable, supports up to 550 lb loads and takes up less than 20 sq. ft. Both machines deliver images, upright and unreversed, on flat field screen. Ergonomically designed systems employ collimated, truly telecentric lenses and integral Geometric Measuring Processor with dual LCD displays.
---
Original Press Release:

QL-20 and QL-30 Contour Projectors Offer Extensive List of Standard Features


Rochester, NY, May 2004 - QL-20(TM) and QL-30(TM) Contour Projectors® - floor model optical comparators from Optical Gaging Products, Inc. (OGP®) - provide unique features that make them outstanding values.

The QL-20 features a 20" diameter screen, while the QL-30 has a 30" diameter screen. The small footprint, vertical design of the QL systems allows large screen inspection in a relatively small space -less than 17 square feet for the QL-20, and less than 20 square feet for the QL-30. Both machines offer large, bright images on a flat field screen for reduced operator eyestrain. Screen images are upright and unreversed, reducing visual confusion and aiding productivity.

QL system ergonomics are excellent. Controls are in natural positions, easily at hand for fatigue-free operation. The bright screens and digital readout displays are located conveniently at eye level, making it easy to visually scan back and forth between them. The in-line design of the worktable provides operators with easy access to mounted parts and fixtures.

As with all OGP Contour Projectors, QL system optics are highest quality. Lenses are collimated and truly telecentric in design, ensuring image accuracy and an image size that does not change when the focus changes. QL system optics are precisely ground, coated, and mounted for optimal image quality, durability, and long operating life.

The extensive list of QL system standard features includes an integral Geometric Measuring Processor with easy-to-read dual LCD displays and easy-to-reach shop-hardened keypad. It includes tools to measure angle, radius, diameter, width, intersection, included angle, distance, roundness, and straightness. Automatic lens sensing provides for error-free measurement scaling with every magnification change. The heavy duty, high precision 32" x 8" nickel plated worktable can easily support 550 pounds (250 kg). DC servo variable-speed motor drive with joystick control delivers smooth, quiet, fast worktable motion.

Even with such a large range of standard features, options are available. OGP Projectron(TM) internal, automatic edge detection ensures repeatable measurements from operator to operator. A ±7½° pivoting worktable assembly provides helix motion. Automate the QL systems with software packages including SmartCheck® metrology software, SmartReport® Plus report writer, and GageFit(TM) contour analysis package.

QL-20 and QL-30 provide impressive performance and reliability. Like all OGP Contour Projectors, they are solidly built of quality components for long service lives. They are capable of accurately measuring manufactured parts from most industries.

More information about the company, QL-20, and QL-30 is available from Optical Gaging Products at phone: (800) 647-4243, fax: (585) 544-8092, web: www.ogpnet.com, or email: sales@ogpnet.com.

Optical Gaging Products is a leading manufacturer of video and multi-sensor metrology systems, optical comparators, and laser surface scanners. Since its establishment in 1945, OGP has delivered thousands of measurement systems to manufacturing companies worldwide. OGP has facilities in Rochester, NY; Denver, CO; Ann Arbor, MI; Singapore; Germany; and Shanghai, China. Optical Gaging Products is one of the Quality Vision International companies.

More from Adhesives & Sealants