Open Modular Conveyor Belt is FDA-approved for food contact.
Press Release Summary: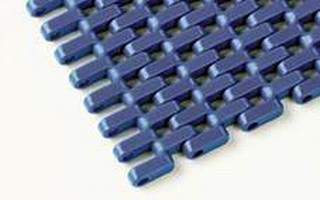 Open top uni SNB M2 20% includes lockpin feature for cleanability and has flat surface allowing gentle transport of sensitive products. Suited for incline conveyors, 1 in. pitch belt has products supports with slotted/open hinges for drainage. Applications include meat cooling and freezing lines, pasta blanchers, pasteurizers, can mass handing, and bakery.
---
Original Press Release:

Uni-Chains Introduces the Product: SNB M2 20% Open Modular Conveyor Belt



July 2007

The unique, open top uni SNB M2 20% offers improved cleanability with our lockpin feature while still maintaining high strength properties. The uni SNB M2 20% is FDA approved for direct food contact, it is a 1" pitch belt and has a flat surface that allows for gentle transport of sensitive products. This belt is ideal for incline conveyors that require drainage due to the special designed products supports with slotted / open hinges that allow drainage. Other applications include: Meat cooling and freezing lines, Pasta blanchers, Pasteurizers, Can mass handing, Bakery and many more.

Visit the Uni-Chains Website at www.unichains.com or contact us for more literature on this revolutionary advancement in the conveyor belt industry.

uni-chains
Since its start in 1968 uni-chains has experienced massive growth from a small conveyor manufacturer to one of the leading suppliers in the world of conveyor chains and modular belt systems. This growth is mainly due to uni-chains' flexibility and commitment to helping customers finding the best solutions to their internal transport requirements.

uni Innovations
For the past 30+ years we have invented the best TAB-chain in the world, uni Super Flex (available in both steel and plastic), side-flexing chains with ribs, gripper chains with moulded rubber, safety chains, the strong 1" uni QNB belt system, uni Flex SNB, the side flexing belt system with reinforcement, uni MPB, the hygienic belt system for meat and food processing and many more.

Company Information:
Name: Uni-Chains Manufacturing Inc.
Address: 500 Brentwood Dr.
City: Reading
State: PA
ZIP: 19611
Country: USA
Phone: 800-937-2864
FAX: 610-372-3590
http://www.unichains.com

More from Machinery & Machining Tools