OPEN MIND Technologies to Demonstrate HyperMILL® v9.5, Booth D-3306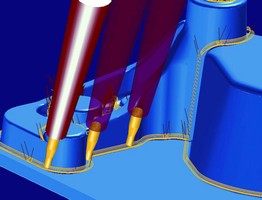 This updated version of hyperMILL has many new and improved functions including extended Feature Technology and a significant overhaul of multi-axis cutter orientation control.

hyperMILL's Feature Technology allows users to standardize programming processes for parts with recurring or similar geometries for 2.5D through 5-axis applications. Feature Recognition adds intelligence to native or neutral CAD data, and machining processes are stored in macros to capture corporate knowledge and to reuse on future similar jobs.

The extended functions include User Defined Features and database control of stored machining processes. User Defined Features provide a general framework for a user to capture information that may be particular to their organization or industry, and to also define Feature subcomponents using local names and reference diagrams. The programming macros, independent of the Feature, can then be stored in the database and accessed with search and filter utilities.

OPEN MIND has long been a pioneer in multi-axis machining strategies. hyperMILL v9.5 extends the tilt-curve strategies for orientation control with the ability to create 5-axis toolpaths on complex surfaces without the addition of any guide curves. Toolpaths can also be created with a bias for the preferred rotary axis. Indexing strategies have also been enhanced and automated to increase the application of efficient, multiple 3+2 tool path segments.