One Part Epoxy features low viscosity and rapid cure.
Press Release Summary: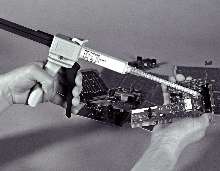 Type EP3RRLV cures in 30-35 min at 220°F and 10-15 min at 300°F. It offers electrical insulation, thermal shock and heat resistance, and protection against water and chemicals. Epoxy requires no mixing and has unlimited working life at room temperature. It bonds to metals, ceramics, glass, and most plastics. Suited for potting, encapsulation, and underfill applications, EP3RRLV has tensile strength of >5,000 psi, Shore D hardness of 80-85, and viscosity of 1,000-1,500 cps.
---
Original Press Release:

Master Bond EP3RRLV New One Part Epoxy Features Low Viscosity and Rapid Cure


Master Bond EP3RRLV is a new one component, tough epoxy system introduced by Master Bond Inc., Hackensack, N.J. It is designed for potting, encapsulation and underfill applications. EP3RRLV will cure in 30-35 minutes at 220°F and 10-15 minutes at 300°F. It has superior electrical insulation properties. This unique formulation offers high physical strength properties, remarkable thermal shock and heat resistance and excellent protection against water and chemicals. It has a service operating temperature range of -80°F to +300°F.

Master Bond EP3RRLV requires no mixing and has an unlimited working life at room temperature. It bonds well to metals, ceramics, glass and most plastics. It is 100% reactive and does not contain any solvents or volatiles. As a toughened system,
it is able to withstand severe thermal and mechanical stresses without impairment of performance characteristics. EP3RRLV has excellent flowability and can be cast in thicknesses beyond 1 inch. The combination of rapid curing, convenient handling, and
flowability makes EP3RRLV a highly effective underfill epoxy.

Master Bond EP3RRLV has a tensile strength of >5,000 psi and a Shore D hardness of 80-85. It has a viscosity of 1,000 - 1,500 cps and is a light yellow color. Other colors are available upon request. Particularly noteworthy is its outstanding dimensional stability.

EP3RRLV is available for use in pint, quart, gallon and 5 gallon pail containers. For ease of application it can be obtained in syringe applicators.

For further information, please contact:
James Brenner
Marketing Manager

More from Adhesives & Sealants