On-Line Effluent System monitors up to 5 process streams.
Press Release Summary: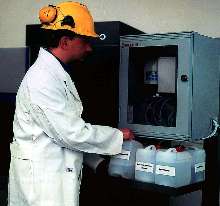 On-Line Sampling System provides automated, multi-elemental analysis to assist volume waste producers where multiple effluent streams must be monitored and controlled on 24-hour basis. Features include time-controlled startup and shut-down and built-in self-monitoring and diagnostic functions. Remote access/control functions are available using TCP/IP based SPECTRONET(TM) communications option, programmable for multi-level error handling and traceable sampling.
---
Original Press Release:

SPECTRO Introduces a 24/7 On-Line Effluent System To Complement Its Popular CirOSCCD Spectrometer


On-Line system will automatically monitor up to five process effluent streams with full traceability for regulatory reporting

Fitchburg, MA - Sept. 18, 2002 - - SPECTRO Analytical Instruments, a leading global supplier of analytical instruments, has introduced the first off-the-shelf automatic on-line system to complement their widely accepted CirOSCCD ICP-OES Spectrometer. This new system is designed to assist industrial and other volume waste producers in complying with increasingly stringent environmental protection laws, particularly where difficult substances or complex waste treatment routines are involved. It is especially effective where multiple effluent streams must be rigorously monitored and controlled on a 24-hour basis.

The SPECTRO On-Line Sampling System provides automated, multi-elemental analysis of as many as five separate effluent streams. The system features automatic, time-controlled startup and shut-down as well as built-in self-monitoring and diagnostic functions. Complete remote access and control functions are available using the TCP/IP based SPECTRONET(TM) communications option, programmable for multi-level error handling and fully traceable sampling.

Eliminate costly, time consuming manual sampling

Rather than relying on more costly and error-prone manual sampling techniques, the SPECTRO On-Line Sampling System gives users a cost-effective, fully traceable solution with increased analysis speed, which enables higher sampling frequencies. In addition, the high performance CirOSCCD spectrometer allows analysis of difficult substances such as halogens and trace quantities of metals

SPECTRO Analytical Instruments, Inc. is recognized worldwide as a technological leader in Arc./Spark, Inductively Coupled Plasma Spectrometry, X-Ray Fluorescence, and HPLC. For more information, write to SPECTRO Analytical Instruments, Inc., 160 Authority Drive, Fitchburg, MA 01420; Tel: 978/1342-3400; Fax: 978/342-8695; email: info@spectro-usa.com; Web: www.spectro-usa.com

SPECTRO ANALYTICAL INSTRUMENTS, INC. o 160 AUTHORITY DRIVE o FITCHBURG, MA 01420
(978) 342-3400 o FAX (978) 342-8695

Related