OMS Equipment Helps Protect Deepwater Oil Pipeline in South China Sea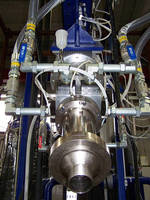 Latrobe, Penn., USA. (April 10, 2009)- Sabah Shell Petroleum Co. Ltd. needed a pipeline that could withstand the stresses and near-freezing temperatures of a deepwater oil field in the South China Sea about 75miles (120 km) off the coast of Sabah.

Bredero Shaw, a subsidiary of ShawCor Ltd., had the pipeline coating technology: Fusion Bonded Epoxy (FBE) to protect the pipe from corrosion and ThermoFlo (D), a cast-in-place elastomeric glass syntactic polyurethane-based material, to ensure hydrothermal stability.

Impianti OMS S.p.A., a leading manufacturer of polyurethane equipment, had the machine that could apply the coating.

Last month, Bredero Shaw began using a specially designed OMS Impact 300S low-pressure metering unit to apply its ThermoFlo (D) coating to 25 miles (40 km) of 18-inch diameter pipe for Sabah Shell Petroleum's Gumusut-Kakap Deepwater Project. The work is being done at Bredero Shaw's facility in Kuantan, Malaysia, the largest pipe coating facility in the world, with more than 148 acres (600,000 square meters) of plant and pipe storage area.

Featuring a special twin pump arrangement, the special-purpose OMS metering machine is capable of processing up to 300 kg/min. of syntactic formulations containing either polymer or glass microspheres. Processing the delicate spheres without damage is essential to ensure the required insulation and buoyancy properties of the finished pipe.

Materials are stored in two temperature-conditioned day tanks: a 538-gallon (2,000-liter) tank for Isocyanate and a 1,320-gallon (5,000-liter) tank for Polyol. Both tanks are equipped with thermoregulation units, automatic level controllers and agitators to ensure the materials are always processed at the correct temperature.

Mass flow meters and closed loop output and ratio control guarantee accurate control of the mix quality throughout the lengthy pouring cycle of the cast-in-place process. A special software program helps the operator build up and reduce delivery rates at the start and end of the molding process by enabling a controlled ramp up start / ramp down end of the pouring cycle.

The OMS metering unit was installed as part of a processing line designed by Bredero Shaw. The line completed testing in December and began operation this year. The coated pipe is scheduled for offshore installation in 2010 once engineering has been completed for construction of the Gumusut-Kakap facility. Sabah Shell Petroleum has estimated the processing capacity at 150,000 barrels of oil per day.

About Polyurethane Process Industries, LLC

PPI is the exclusive U.S. distributor of polyurethane foam equipment produced by Italian manufacturer OMS Group. The southwestern Pennsylvania sales and service company has provided high-quality, low-cost equipment, parts, repairs, service and engineering assistance to North American polyurethane manufacturers since 2004. The company was founded by Mark Clark, who spent nearly 20 years in the engineering, parts, service and sales departments of such major polyurethane equipment manufacturers as Cannon and Hennecke Machinery.