Universal Process / Temperature Controllers
Oil Temperature Controller is rated at 240/480V, 3 phase.
Press Release Summary: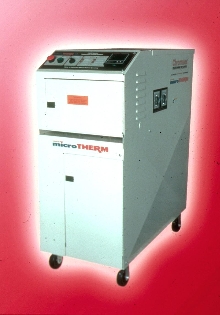 MicroTHERM® portable compact hot oil temperature controller is designed for precise control of oil temperatures up to 550°F in 1 package that combines heating, cooling, pump, and control functions. MicroTHERM oil temperature controller produces up to 24 kW, and has one 3 hp centrifugal pump. It incorporates manual cooling for temporary changes, and provides oil connections for 1.5 in. diameter pipes. Water connections are provided for .5 in. pipes.
---
Original Press Release:

New Microtherm(TM) Oil Temperature Controller


NEW MICROTHERM(TM) OIL TEMPERATURE CONTROLLER

PITTSBURGH - December 13, 2001 - Chromalox®, a division of Emerson (NYSE: EMR), introduces the microTHERM® Compact Hot Oil Temperature Controller, a portable product for precise control of oil temperatures up to 550°F in a single, compact package that combines heating, cooling, pump and control functions. The microTHERM oil temperature controller is an ideal solution for plastics, rubber, cosmetics or chemical manufacturers or laboratories that seek to maintain precise control of injection molding machines, platens and dies, pipes or jacketed vessels and tanks.

MicroTHERM oil temperature controllers produce up to 24 kW, measure 19" x 38" x 45" and have a three horsepower centrifugal pump. This product supplies both sophisticated control applications and technician-friendly operation on the floor. A simple-to-understand control panel facilitates user operation. MicroTHERM has programmable temperature control and customers may choose SCR for applications requiring precise temperature control. MicroTHERM also has manual cooling for temporary changes, without having to adjust the temperature controller. Temperature returns to its normal pre-set value once the manual cooling switch is turned back to the off position.

MicroTHERM's internal design has a number of quality advantages for customers. Chromalox manufactures its own heating elements in order to maintain quality over heating elements. And, with a mechanical seal on the pump and few non-welded connections, oil drips inside the product are minimized.

Easy installation is provided through simple oil and water connections in the rear of the product. Oil connections link to 1.5" diameter pipes, water connections to .5" pipes. Other product specifications include:

*Heat Energy: 6 to 24 KW
*Watt Density: up to 22 WPSI
*Pressure Atmospheric
*Voltage: 240/480 3ph
*Expansion Tank: 8 gallons

Pricing and Availability: MicroTHERM oil temperature controllers are available four weeks CRO, with standard configuration priced around $6500.