OGP Introduces 'Specialists' for Medical Device Manufacturers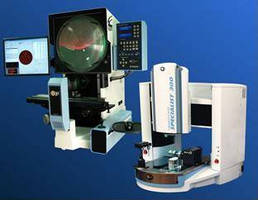 Rochester, New York - Optical Gaging Products, Inc. (OGP®) demonstrates its commitment to medical device manufacturers by offering its new "Specialist" dimensional measurement/inspection systems - the SmartScope® Specialist 300 multisensor dimensional measurement system and the Focus(TM) Specialist 16" Horizontal Contour Projector®. These systems were specifically designed to verify critical dimensions of orthopedic implants such as intervertebral disc spacers and artificial discs; the stem, ball and cup of prosthetic ball joints; tibial and femoral knee implants; and tibial and talar ankle implants; as well as syringe components and fluid flow components.

SmartScope Specialist 300 is an optical-based benchtop metrology system offering micron-level measurements within a generous 300x300x250 mm (12x12x10") XYZ measurement volume. Specialist 300 verifies critical dimensions of a wide range of medical parts. A measurement routine for one part is easily repeated for a batch of fixtured parts, providing throughput to support production requirements.

SmartScope Specialist 300 employs many technological innovations, such as its patented twin-Z elevating bridge for structural integrity. With its patented completely telecentric TeleStar® motorized zoom optics, high-resolution grayscale camera, narrow-band green LED surface and profile illumination, and industry-leading image processing, SmartScope Specialist excels at non-contact, high speed video metrology.

Specialist 300 is also a versatile multisensor system. Measure prosthetic knees and hips mounted on the MTR rotary indexer to maneuver them into an optimal position for measurement with the SP25 continuous contact scanning probe - a rare capability for a benchtop metrology system. Or use the Specialist configured for ENT applications. Its Feather Probe(TM), with its miniature probes, can access tiny features on the most delicate micro-manufactured parts, such as middle ear prostheses. The available TeleStar TTL (through-the-lens) laser maps complex surface contours. There are SmartScope Specialist sensor configurations for most medical devices.

SmartScope Specialist 300 includes OGP's popular MeasureMind® 3D MultiSensor metrology software that provides integrated multisensor control and functionality. MeasureMind software acquires and analyzes data from multiple sensors anywhere within the system's measurement volume. Specialist 300 offers robust SmartFeature® software that supports essential 21 CFR Part 11 regulatory requirements. Available SmartFit® 3D fitting software includes extensive tools for comparing measurements to CAD files. Optional software applications are also available to support 3D GD&T, and offline 3D CAD programming.

Focus Specialist is a premium benchtop optical comparator designed to meet the inspection and measurement needs of medical device manufacturers. Its completely telecentric optics yield upright and reversed images that are crystal-clear and undistorted. Its dedicated 5x lens allows 3.2" of a part to fill its evenly illuminated 16" (406 mm) diameter screen - more than could be seen on a 30" comparator using a 10x lens. With new eCAD(TM), a CAD model presents a virtual chart on the Focus screen, essentially eliminating traditional overlay charts. The quality 5x lens and CAD-generated charts make Focus Specialist perfect for non-contact visual inspection/measurement of medical parts.

Focus Specialist features innovative all-LED TruLight(TM) illumination, a world-first use in optical comparators. Focus is equipped with a high-brightness monochromatic green LED profile light, while a white LED TTL coaxial surface light provides unsurpassed surface illumination. Unlike older light sources, TruLight LED illumination intensity is variable. Long-lived, they provide years of service, while consuming a fraction of the energy and producing much less heat than traditional tungsten illumination.

The substantial mechanical structure features a sturdy mineral cast base for metrological stability and measurement integrity. The motorized nickel-plated worktable allows for automatic programmed operation, and provides 15" x 6" (380 x 150 mm) of XY travel, with 18" (450 mm) extended X travel available. Precision XY scale resolution is 1.0 µm (0.00004"), while OGP Projectron(TM) provides reliable internal automatic edge detection. The included OGP Q-Check® multifunction DRO offers high-contrast dual backlit 2-line LCD displays showing X and Y positions, and measurement results.

eChek(TM) metrology software for optical comparators provides ease-of-use, power, and the versatility required to automatically measure 2D parts. It offers complete metrology functionality, full CNC operation, and an intuitive yet full-featured user interface, along with CAD import capability and easy links to other OGP software.

For additional information on these OGP Specialist systems, contact Optical Gaging Products at (800) 647-4243, www.ogpnet.com or email at info@ogpnet.com.

Optical Gaging Products is an innovator in non-contact and multisensor dimensional measurement systems, optical comparators, and laser surface scanners for manufacturing quality control. Since its establishment in 1945, OGP has delivered thousands of measurement systems to manufacturing companies worldwide. OGP has facilities in Rochester, NY; Tempe, AZ; Singapore; Germany; Bangalore, India; and Shanghai, China. Optical Gaging Products is one of the Quality Vision International companies.

More from Agricultural & Farming Products