Oberon, Inc. Enclosures Secure Aruba Remote Access Points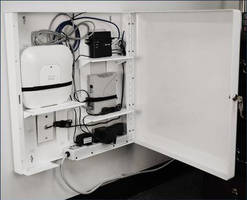 Wireless and Telecom Mounting Solutions Reach Small Businesses and Home Users

As companies make greater use of remote offices, home teleworkers and mobile contractors, new products, and organizational tools are needed to ensure maximum productivity and connectivity. Aruba Remote Access Points (RAPs) are an increasingly popular option in small branch offices and home office settings. The Aruba RAPs provide secure, always-on network access to corporate enterprise resources from remote locations.

For the teleworker, the challenge becomes maintaining organization and security within the home or small business space. Networking components need to be organized and stored in such a way that is aesthetic for the small/home/professional/remote office, and protects components from being displaced, disconnected, damaged, or stolen.

The quest for component and cable management has fueled many an article on popular tech websites. Now, a series of simple network enclosures offer a more convenient, space-saving way to keep networking components from a variety of manufacturers secure within a cabinet which is transparent to wireless signals.

The Oberon Home and Office Network Cabinet provides the flexibility to organize virtually any small office's networking components.

Oberon's Wireless Router Box is ideal for organizing smaller wireless routers and broadband modems in either a flush-mount or surface-mount configuration.

Both enclosures were designed to meet the needs of teleworkers, home users, small business and professional offices, and smaller office settings within larger buildings when combined with Oberon's corporate enclosure lines for full-building wiring. Secure, convenient, and aesthetic, Oberon's easy-to-install home and office enclosures provide proper storage and safety for a variety of networking components.

For Oberon's full product line of secure, convenient, and aesthetic wireless access point and telecommunications enclosures, please call 1-877-867-2312 or see the Enclosure Selection Guide at http://oberonwireless.com/selection-guide.php.

ABOUT OBERON, INC. - Since 1999, Oberon, Inc. has been providing products and services to integrators and end users of wireless LAN "Wi-Fi" network products. Oberon's wireless enclosures and antenna products are used where the RF coverage, infrastructure security, environmental robustness, and aesthetics are paramount in the network design and implementation. Oberon offers ceiling-mounted telecommunications enclosures for Ethernet switches, patch panels, wireless controllers, and other networking and A/V components - ideal for structured cabling and Fiber-to-the-Enclosure (FTTE) deployments.

Oberon's products and services have helped thousands of integrators and end-users in the global healthcare, government, transportation and logistics, education, retail, hospitality, and manufacturing achieve reliable indoor network connection mobility.

For more information regarding this press release, please contact Sharon Sobieszczyk at 814-308-5017 x708 or sas@oberonwireless.com.

Related