Nylon Clamps hold pool and spa hoses securely in place.
Press Release Summary: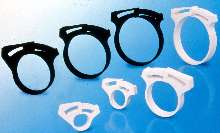 Corrosion-resistant, reusable, nylon clamps secure hose and tubing in commercial or residential pool and spa applications. Single-piece hose clamps install and tighten with hand pliers, and interlocking design allows clamp to be adjusted in place for max clamping strength and leak-free seal. Constructed from heat-stabilized high-impact type 6/6 nylon, they withstand temperatures to 125°F and accommodate clamping ranges from 6.4-60.3 mm.
---
Original Press Release:

New Kaf-flex Nylon Clamps Hold Pool And Spa Hoses Securely In Place


New Product: Kaf-flex Nylon Clamps - for pool and spa hose.

Design: Kaf-flex In-House Product Design & Engineering Team.

Manufacturer: Kaf-flex - a Heyco Products Company

Product Applications: Kaf-flex Nylon Clamps are tough, corrosion resistant, reusable nylon clamps that secure hose and tubing for virtually any commercial or residential pool and spa application.

Product Description: The Kaf-flex Nylon Clamp is a one-piece hose clamp that can be quickly and easily installed and tightened with hand pliers. The interlocking design allows the clamp to be adjusted in place for maximum clamping strength and to ensure a leak-free seal.

All Kaf-flex Nylon Clamps are designed to withstand salt water, weak acids, grease, common solvents and temperature ranges to 125° F; glass-filled nylon construction may also be specified for added strength and durability in environments with extreme temperatures. A wide variety of clamp sizes are available to accommodate clamping ranges from 6,4 mm to 60,3 mm.

Construction & Finishes: Kaf-flex Nylon Clamps are constructed from heat-stabilized high-impact type 6/6 nylon; glass-filled nylon construction is also available. Glass-filled clamps have a flammability classification of 94 HB. Kaf-flex Nylon Clamps are available in black or white, allowing them to visually coordinate with a greater range of applications for design continuity.

Ordering Information: Literature, specifications and pricing for Kaf-flex Nylon Clamps for pool and spa hose can be obtained from Kaf-flex, 12801 Commodity Place, Tampa, FL 33626. Telephone: (813) 925-1466. Fax: (813) 818-0117. E-mail: sales@kafflex.com. Learn more about Kaf-flex's capabilities and product range by visiting them on the World Wide Web at: kafflex.com.

Kaf-flex is the leading designer, manufacturer and marketer of hoses for the pool and spa industry selling: PVC flex pipe, Clear Vinyl Tubing, Pool Vacuum Hose and pool accessories. It is also a leading manufacturer of flexible non-metallic PVC conduit. Kaf-flex is a Heyco Products Company

More from Test & Measurement