NovaNOW's New Portable Gas Analyzers Provide Durability and Flexible Configurations in Smaller Package
Press Release Summary: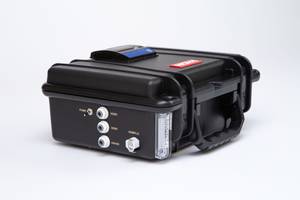 NovaNOW portable gas analyzers provide the same reliability of Nova's product line in a smaller package. The product's lithium ion batteries allow for a smaller footprint and lighter weight of the overall system.  The analyzers include a universal touchscreen display, on-board USB data storage, built-in trouble shooting guides, and application-specific probes up to 1000C/1800F. Other standard features include an on-board printer with analog and digital outputs and software configurations allowing up to any 6 gases to be measured.  Customized configurations are also available upon request.
---
Original Press Release:
Nova Analytical Systems Introduces its New Portable Gas Analyzer Family, the NovaNOW Portables
Hamilton (ON), October 31, 2018: In June 2018 Nova Analytical Systems (a Unit of Tenova Goodfellow Inc.) launched the NovaNOW portable gas analyzer family.  These latest gas analyzers offer the unique combination of durability, flexible configurations and ease of use that NOVA customers have come to expect, but in a package that is half the size and weight.  In addition, this new family offers the following new features:
Standard layout and software configurations that will allow up to any 6 gases to be measured including O2, CO, CO2, CH4, SO2, NO, NO2, H2S, H2, NH3, Dewpoint, Humidity
New lithium ion batteries allow small footprint and lighter weight
A universal touchscreen display
Dynamic analytical compensation between multiple gas sensor to minimize cross interference for maximum accuracy
Easy access for maintenance and sensor replacement
Bulk Moisture removal for wet sampling
Can be paired easily with Model 2500 thermal electrical cooler accessory
On board USB data storage
Application specific calculations
Application specific probes up to 1000C / 1800F
Provision for additional external sensor inputs such as temperature, pressure, flow, particulate
Built in troubleshooting guides
Standard options such as on-board printer, analog and digital outputs.  
NovaNOW portables are available in standard configuration for many different applications including flue gas, engine exhaust measurement, heat treating atmosphere, biogas and ambient air monitoring.  'Customized' configurations are also available to suit your specific needs.
Whatever your needs, ask our sales team and get your NOVA NOW!
About NOVA
Nova Analytical Systems, a Unit of Tenova Goodfellow Inc., has designed and manufactured dependable gas analysis equipment for more than 40 years. Nova offers portable gas analyzers, continuous gas analyzers and sample conditioning equipment for a diverse range of traditional and emerging combustion intensive industries in various global regions. For more information visit www.nova-gas.com