Northstar Introduces New Resin Formulas for Mold-Making Applications
Press Release Summary: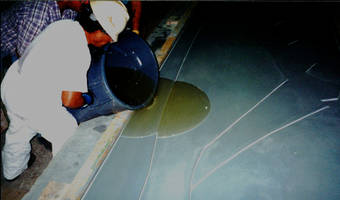 Mold-Making Resins are available in MPP-A25E, MPP-A40E and MPP-A50E formulas with hardness of 25A, 40A and 50A and tensile strength of 389, 867 and 1300 psi respectively. These resins are used in applications such as concrete veneer/fascia and precast concrete products. MPP-A25E formula features a die-C tear resistance of 90 pli and a mixed viscosity of 1650 cps whereas MPP-A40E resin formula comes with 134 pli and 700 cps.
---
Original Press Release:
New and Improved Mold-Making Resin Formulas for Concrete Products
Northstar Polymers, a formulator and manufacture of polyurethane raw chemicals, has developed a new line of formulation products specially designed to service mold-making applications such as for concrete veneer/fascia and other precast concrete products.
Mold materials to make concrete veneers must be flexible and strong in order to demold cured concrete products with complex surface design. The materials also need to be easy to use and be robust against variations in the processing environment. The new formulas are developed specifically to suffice those requirements.
The overall qualities of our new formulas are comparable to the existing products from some of the more prominent suppliers in the market. (See the appended chart for more data.) While our competitors sell through distributions, Northstar Polymers is the manufacturer directly supplying to their customers allowing the customers to take price advantages. The customization for special requirements can also be done more easily.
Our web page with more detailed information at: http://www.northstarpolymers.com/NorthstarPolymers/New_Mold_Making_Resins.htm
Please contact Northstar Polymers my email at info@northstarpolymers.com or call 612.721.2911 ext. 119 for any question.
May 4, 2018
Jun Sugiyama
Northstar Polymers (Div. of Tandem Products)
Comparing Properties of the Similar Products in the Market: http://www.northstarpolymers.com/NorthstarPolymers/Graphics/050418_Comparing%20Material%20Data_Northstar%20Polymers.jpg