Nortek Security & Control Shows How Professionally-installed Home Control Systems Dwarf DIY Options at Austin Parade of Homes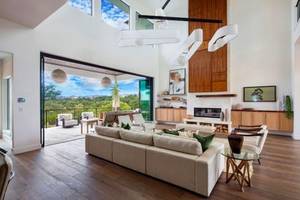 ELAN automation, SpeakerCraft and Sunfire audio, and Panamax power protection from Nortek Security & Control helps two homes win Best Smart Home and the People's Choice Award.
Carlsbad, Calif., March 26, 2019 /PRNewswire/ -- Nortek Security & Control, a global leader in wireless security, home automation, access control and health and wellness technology, today announced that its ELAN® Entertainment and Control System was recently featured in two Texas residences as part of the Austin Parade of Homes, organized by the Homebuilders Association of Greater Austin. According to Scott Ruzich, President and CEO of Epic Smart Homes and Epic Interior Designs, the ELAN system, along with SpeakerCraft®, Sunfire®, and Panamax® products, contributed to one house winning "Best Smart Home" and the other winning the People's Choice Award.
"It is a privilege to be involved with the Austin Parade of Homes, especially being chosen to outfit two of the four homes in the Parade," Ruzich said, "but the real excitement came from the attendees who were seeing and using ELAN whole home automation for the first time. Being able to bring such a large audience into what is essentially a luxury showroom allowed us to pique their interest far more than any literature or marketing material could ever do."
Working with Aluxa Custom Homes and Vogel Builders, Epic Smart Homes installed two ELAN home automation systems that deliver mobile device control of multiple zones of audio and video, lighting, security, surveillance, motorized window shades and climate controls. Using top-shelf brands for every facet of the installation allowed Epic Smart Homes to show Austin's potential homebuyers that there are far more advanced home technologies available than they ever imagined, and highlight the stark difference between piecemeal DIY systems and professionally designed and installed whole home control.
"There are lots of connected and so-called 'smart' devices on the market today, but most of them have their own app and don't work together," Ruzich added. "But people don't want a dozen different apps to control different parts of their home. The ELAN system and ELAN mobile app are far more powerful – they allow control of everything and offer full schedule and event-based automation. So for instance, arming the alarm can automatically lock the front door's electronic lock, set lighting to an 'away' preset, lower the window shades, adjust thermostats, power off all the audio/video equipment, and then any motion activity detected by cameras sends an alert to the owner's phone. The ease of use this offers is huge for today's busy families, and the simplicity and automation no doubt contributed to Vogel winning the People's Choice Award."
The Homebuilders Association of Greater Austin recognizes how important these technology upgrades are to modern homebuyers, as CEO Emily Blair explained.
"The Parade of Homes showcases what's next and what's new for homebuyers, and smart home technology is a huge part of that," Blair said. "Even in Austin, which has been rapidly growing its tech economy, many homebuyers have never seen a complete smart home solution before. Our marketing materials promote the fact that attendees can experience new technologies, so it's great to see it reflected in the People's Choice Award and the positive comments we received. We're proud to work with leading integrators and brands to bring Austin a glimpse of the best professional home technologies available today."
In both the Aluxa and Vogel home, video distribution is handled through ELAN's Video-Over-IP line, which means owners can instantly access any video source from any TV in the home using the same ELAN interface. Epic Smart Homes' Parade of Homes designs showed off many different TV styles, including a huge Seura® mirror TV, Sunbrite® outdoor TV, a Samsung® Frame® TV and home theaters with either a 110" or 120" 4K projection system.
Housewide audio works the same way, with all content centralized and distributed through the home, offering the ability to play different music in every room or control every speaker in the house simultaneously. An ELAN S1616A multi-zone audio controller allows for up to 16 input sources and delivers audio to multiple audio zones in each home.
In the Aluxa home, Epic Smart Homes used 12 SpeakerCraft AIM7 in-ceiling speakers to provide crystal clear audio for six zones. In the home's media room, attendees were blown away by an impossibly small Sunfire Atmos subwoofer that delivers 1400 watts of pounding bass while taking up about as much space as a basketball. In the Vogel home Epic switched things up, using Speakercraft's AIM Cinema in-wall and LCR5 speakers, supported by AIM8 ceiling speakers and a 3,000 Watt Sunfire XTEQ10 subwoofer.
"People gravitate toward technologies they haven't seen before, and in these homes that meant the Sunfire Atmos subwoofer, 65" hidden mirror TVs, and the ELAN interfaces and mobile app that offer simple, instant control of the entire home," Ruzich added. "In addition to the event-based automation and daily schedules, they discover things like an outdoor TV specifically made to endure the Texas climate, with a professional outdoor audio system, and a videowall with four screens that can display a single four-screen video feed or up to four separate feeds."
Ruzich also found that a majority of attendees placed a high value on security and surveillance, and were therefore impressed with the capabilities of systems he installed. Each home features multiple internet-connected surveillance cameras outside, including a doorbell system that provides live video of whoever is at the door, and all the camera feeds can be viewed on any device or wall-mounted touchscreen through the ELAN app.
Visitors were able to test out the home's ELAN system through various ELAN input devices, including ELAN wall-mounted touchscreens, ELAN remotes and the ELAN app on mobile devices. Each home features a Lutron lighting system, which works with ELAN to enable full automation and control of every dimmer.
For hi-res images, click here.
About Epic Smart Homes & Epic Interior Designs
Epic Smart Homes' mission is simple: to build the kind of environment for client homes or projects that is stress free, easy to use and complete. Through it all, the company strives to deliver superior and exceptional customer service and support, while providing the newest forms of technology and interior design that help usher in a lifestyle of luxury, simplicity, convenience, energy management and peace of mind. For more information, visit visit www.EpicSmartHomes.com.
About ELAN
ELAN, from Nortek Security & Control, develops an award-winning line of whole-house entertainment and control solutions distributed through a comprehensive channel of select dealers throughout the United States, Canada, and countries worldwide. The ELAN 8 update was honored with the "2017 Human Interface Product of the Year" award, and continues to expand its intuitive functionality with security, climate, surveillance and video distribution products and integrations. To learn more, visit www.elanhomesystems.com.
About Nortek Security & Control
Nortek Security & Control LLC (NSC) is a global leader in smart connected devices and systems for residential, security, access control, and digital health markets. NSC and its partners have deployed more than 5 million connected systems and over 25 million security and home control sensors and peripherals. Through its family of brands including 2GIG®, ELAN®, Linear®, GoControl®, Mighty Mule® and Numera®, NSC designs solutions for security dealers, technology integrators, national telecoms, big box retailers, OEM partners, service providers, and consumers. Headquartered in Carlsbad, California, NSC has over 50 years of innovation and is dedicated to addressing the lifestyle and business needs of millions of customers every day. For further information, visit nortekcontrol.com.
Other brand names and product names mentioned herein may be the trademarks, tradenames, service marks or registered trademarks of their respective owners.
Source Nortek Security & Control
Contact:
Jess Passananti, [email protected]
Web Site: http://www.nortekcontrol.com