NORD Hollow Socket Shaft Design Eliminates Need for Problematic Couplings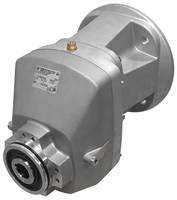 Custom-engineered shaft options are now widely available to provide coupling-free installations on select gear units.
NORD DRIVESYSTEMS releases their new hollow socket shaft design for coupling-free installations.
NORD DRIVESYSTEMS adds another innovative product to their standard offering with a new hollow socket shaft design for NORDBLOC.1 single-reduction gear units. This cutting-edge shaft design mounts directly to a pump without the need for couplings, significantly reducing installation time and maintenance, greatly extending the operating life of the unit, and drastically reducing revenue loss as a result of unexpected downtime.
Couplings have always been a challenge, and they are a common failure point within drive systems. Keeping shafts aligned not only eliminates vibrations, but also prevents additional load and wear-and-tear on drive units. Unfortunately, this is easier said than done as even the most seasoned technicians are required to adjust and shim, sometimes for hours, to get as close to perfect alignment as possible, knowing that even the slightest mis-alignment will ultimately shorten the lifecycle of the gear unit. Add to that the growing scarcity of qualified technicians and it's clear the time for a new way is now, and NORD is paving the way.
NORD initially approached PSG, a Dover company, with the idea of a coupling-free system for their Blackmer Series pumps. After many months of collaboration, the design was finalized for a hollow socket shaft for Blackmer's GNX and GNXH products. The new turnkey design reduced the time and costs of integrating new units to almost zero, making it a preferred pump solution that earned PSG a net revenue improvement of 47 percent. 
The hollow socket shaft option is available for aluminum case sizes SK 371.1 to SK 971.1. Contact NORD at 888.314.6673 or visit www.nord.com for more information.
Social Media:
LinkedIn profile: https://www.linkedin.com/company/nord-gear-corporation
LinkedIn links: @nord-gear-corporation
Twitter: https://twitter.com/NORD_Gear_US
Twitter links: @NORD_Gear_US
YouTube: https://www.youtube.com/user/NORDDRIVESYSTEMS
About NORD DRIVESYSTEMS®
With more than 4,000 employees, NORD DRIVESYSTEMS has been developing, producing and selling drive technology for more than 50 years, and is one of the global leaders of full-service providers in the industry. In addition to standard drives, NORD delivers application-specific concepts and solutions for special requirements such as energy-saving drives or explosion-protected systems. In financial year 2017, annual sales amounted to $781 million. NORD now has subsidiaries and sales partners in 98 countries worldwide. The dense sales and service network guarantees optimal availability, enabling short delivery times and customer-oriented service. NORD produces a very diverse range of drives for torques from 88 to more than 2.2 million lb-in, provides electric motors in the power range of 0.16 to 1,341 HP, and manufactures frequency inverters with the required power electronics of up to 215 HP. Inverter solutions are available for conventional control cabinet installations as well as for decentralized, fully-integrated drive units.
NORD Gear Corp – United States
Member of the NORD DRIVESYSTEMS Group
800 NORD Drive
PO Box 367
Waunakee, WI 53597
Phone: (888) 314-6673
Fax: (800) 373-6673
info.us@nord.com
NORD Gear
PO Box 367
800 Nord Drive
Waunakee, WI 53597
Laurie ANDRES
Phone: 608-849-7300 x 2957
Laurie.Andres@nord.com
More from Software