Non-contact Part Checker eliminates wear.
Press Release Summary: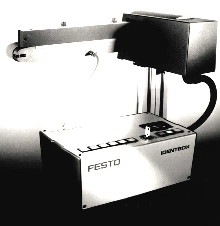 Checkbox Optoelectronic System detects part orientation and quality, and facilitates automated picking and sorting processes. System integrates imaging technology, conveyor, and ejection mechanisms. Camera continuously analyzes work piece contours, detecting and evaluating orientation and physical characteristics. System suits rotationally symmetrical and pre-oriented work pieces of any shape, with diameters from 0.5 to 80 mm, and lengths of 3 to 80 mm.
---
Original Press Release:

Festo Identifies Parts with New Optoelectronic System


Modern automated assembly and production machines typically need parts to be properly oriented when presented to the operation. Festo's Checkbox system is a family of optoelectronic systems that reliably detect part orientation, quality, and facilitate automated picking and sorting processes.

Development of the Checkbox concept is credited to Festo Engineers, who found it necessary to meet the high quality requirements of the company's own production operations and to overcome the weaknesses of conventional solutions. The top development objectives were high reliability, ease of integration, ease of operation and robust construction.

At the foundation of the design, is an integration of imaging technology, conveyor and ejection mechanisms. A camera is used to continuously analyze the contours of the workpieces, detecting and evaluating their orientation and physical characteristics. The system is suitable for rotationally symmetrical workpieces and pre-oriented workpieces of any desired shape and diameters of 0.5 - 80 mm and lengths of 3 - 80 mm.

When confronted with complex shapes, different types of workpieces, and high cycle rates, typical mechanical sorting systems fall hopelessly short. The non-contact methodology used by the Checkbox eliminates wear on conveyed workpieces, and the integrated quality check feature ensures consistency in parts fed to automatic assembly machines.

Checkbox units are easy to operate, and with their teach-in function, each unit can "learn" the characteristics of different workpieces without manual programming.

The Checkbox is controlled via Festo's CheckKon Software. This
program allows the user to "fine tune" the checking process and log and display all Checkbox operations, including events from evaluation of the camera image through to valve activation.

The identifying characteristics for as many as forty-eight different parts can be stored within the Checkbox. When workpiece changeovers are desired, a significant saving of time is realized, because a new part is easily selected by the touch of a button.

More from Adhesives & Sealants