NFC Antenna complies with EMVCo 40 mm specification.
Press Release Summary: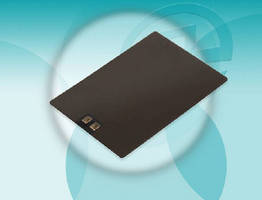 Measuring 35 x 50 mm with minimum thickness of 0.185 mm and 2 x 2 mm pad size, NFC Ferrite Sheet Antenna enables mobile devices to read data from up to 40 mm, supporting communication with other wireless devices for payments, access and control, credential storage/exchange, and content consumption. Antenna is constructed of thin ferrite with one-sided flex and thin adhesive. EMVCo specifications ensure global interoperability and compatibility of chip-based payment cards and acceptance devices.
---
Original Press Release:

Pulse Electronics Introduces Ultra-thin NFC Ferrite Sheet Antenna



~ 40% thinner while meets EMVCo 40mm specification ~



San Diego, Calif. - Pulse Electronics Corporation (NYSE: PULS), a leading provider of electronic components, introduces a near field communications (NFC) antenna that is 40% thinner than similar NFC ferrite sheet antennas, while still complying with the EMVCo specification. The new ferrite sheet antenna enables mobile devices to read data from a distance of up to 40mm to enable them to communicate with other wireless devices for payments, access and control, credential storage and exchange, and content consumption. EMVCo specifications ensure global interoperability and compatibility of chip-based payment cards and acceptance devices.



"Reliable antenna solutions are needed for user-friendly and safe contactless commerce, as data from IHS iSuppli predicts shipments of NFC antenna-equipped devices to reach 580 million units by 2015," said Maritta Timosaari, sales & marketing director, Pulse Electronics Mobile Division. "Pulse's new NFC antennas are not only thinner, but they have excellent signal integrity, can be customized to the varying sizes of handset mechanics, are easy to implement, and enable safe, non-contact, wireless communication for NFC connectivity to mobile devices."



Pulse's thinner NFC antenna sends and receives clear signals even when installed in a handset in close proximity to the battery or metal housing. It is 35x50mm in size with a minimum thickness of 0.185mm and a pad size of 2x2mm. The antenna is constructed of a thin ferrite with one-sided flex and a thinner adhesive. The contacts are in the antenna for easy implementation and a smaller area. To achieve the EMVCo target reading distance of 40mm the mechanics are optimized with the antenna. Pulse customizes its NFC antennas, matching the circuit values for the device, so tuning is all that is needed to integrate it into the mobile device.



The NFC ferrite sheet antennas are RoHS compliant, come packaged in trays, and are ready for volume production. They are available in a variety of sizes and can be configured to a customer's specifications. Pulse can optimize multi-antenna configurations with an NFC antenna for all-in-one solutions. In-house testing and measurement are done at Pulse Electronics' global facilities to ensure that the antenna will perform optimally throughout its life cycle.



Pulse Electronics experts will be available at Mobile World Congress, Barcelona, Spain, February 25-28, 2013, to discuss these new antennas and other Pulse antenna products. To access the datasheet, click on http://www.pulseelectronics.com/download/3822/ultra-thin_nfc_ferrite_sheet_antenna . For more information on NFC antennas visit the Pulse Electronics website at http://www.pulseelectronics.com/NFCFerriteAntenna. 



About Pulse Electronics:

Pulse Electronics is the electronic components partner that helps customers build the next great product by providing the needed technical solutions. Pulse Electronics has a long operating history of innovation in magnetics, antennas, and connectors, as well as the ability to ramp quickly into high-quality, high-volume production. The Company serves the wireless and wireline communications, power management, military/aerospace and automotive industries. Pulse Electronics is a participating member of the IEEE, SFF, OIF, HDBaseT Alliance, CommNexus, and MoCA. Visit the Pulse Electronics website at www.pulseelectronics.com.



Copyright ©2013 Pulse Electronics Corporation.  All rights reserved.  All brand names and trademarks are properties of their respective holders.



Pulse Electronics 

Maritta Timosaari Sales & Marketing Director, Mobile Division

Tel: +358-40-502 9529

Email: mtimosaari@pulseelectronics.com

More from Thermal & Heating Equipment