New XRF Analyzer Available with Silicon Drift Detector
Press Release Summary: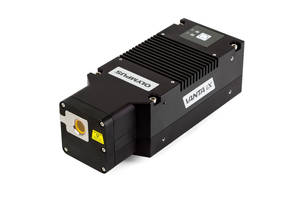 Streamlines quality inspections for metal fabrication and geo processing
Built to endure the high levels of vibration, electromagnetic and acoustical noise
Designed to operate from –10°C to 50°C with continuous testing
---
Original Press Release:
Vanta™ iX In-Line XRF Analyzer Automates Material Analysis and Alloy ID
Waltham, Mass., (January 20, 2021) – The new Vanta iX in-line X-ray fluorescence (XRF) analyzer automates material analysis and alloy ID on the manufacturing line, delivering instant results for real-time process monitoring and 100% inspection. Designed to operate 24/7, the analyzer streamlines quality inspections for metal fabrication and geo processing.
Metal fabrication requires 24/7 process control to verify that products are being manufactured using the correct alloy to avoid costly material mix-ups. The Vanta iX analyzer provides clear material and grade ID in seconds, so metal fabricators can demonstrate that their products are 100% tested and verified. The instrument can deliver pass/fail results or full material chemistry.
For geological processing and mining, the analyzer enables core scanning and on-belt analysis with real-time results to monitor process variability and ensure ore grade consistency.
Powerful Processing
With a silicon drift detector (SDD) and Olympus' proven Axon Technology™, the analyzer can test a wide range of alloy and metal grades—including light elements. It brings the same high-count rate and stability as the rest of the Vanta series.
Intelligent Integration
The Vanta iX analyzer is easy to install in manufacturing environments—use the mounting holes on each side to mount the analyzer onto robotics and other systems.
Modern Data Transfer
Easily control the analyzer with either the Vanta Connect API or a PLC and discrete wire.
Rugged for the Manufacturing Line
Built to endure the high levels of vibration, electromagnetic and acoustical noise, dust and moisture of production facilities, the analyzer is vibration tested (MIL-STD-810G), IP54 rated and designed to operate from –10 °C to 50 °C (14 °F to 122 °F) with continuous testing.
For more information about the Vanta iX in-line XRF analyzer, visit Olympus-IMS.com.
About Olympus
Olympus is passionate about the solutions it creates for the medical, life sciences and industrial equipment industries, as well as cameras and audio products. For more than 100 years, Olympus has focused on making people's lives healthier, safer and more fulfilling by helping detect, prevent, and treat disease, furthering scientific research, ensuring public safety, and capturing images of the world.
Olympus' Industrial Solutions range from industrial microscopes and videoscopes to nondestructive testing technology and X-ray analyzers. These products are widely used for quality control, inspection and measurement applications. Serving customers in fields such as manufacturing, maintenance, and environment and natural resources, Olympus technology contributes to the quality of products and adds to the safety of industrial infrastructure and facilities. For more information, visit Olympus-IMS.com.
Media Contact:
Kristin Schaeffer
Public Relations Manager
Klunk & Millan Advertising
kristin@klunkmillan.com
610-973-2400
Related