New X-Ray Fluorescence Measures Layer Thickness of Metal and Dielectric Films
Press Release Summary: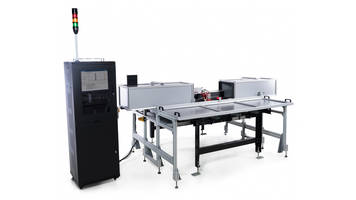 Provides inline measurements for films on substrates, glass and solar panels
Includes X-ray tube with high voltage generator and X-ray detector system
Measures atomic species based on the customer's coating formula and measurement needs
---
Original Press Release:
X-Ray Fluorescence Layer Thickness Product Released by k-Space Associates, Inc.
[Dexter, MI, May 6, 2021] – As k-Space Associates, Inc. continues to expand their industrial metrology product line, they are excited to introduce the newest addition, the kSA XRF (X-ray fluorescence). This metrology system measures the layer thickness of metal films and dielectric films that are too thin for reliable optical measurements. It provides inline measurements for films on many substrates and applications, including glass and solar panels.
The system is comprised of an X-ray tube with a high voltage generator and an X-ray detector system. The system identifies the spectral peaks for the X-ray emission spectrum and collects the peak intensities for further processing. The tool measures the appropriate atomic species based on the customer's coating formula and measurement needs. k-Space can integrate this tool into existing QC systems and add alarms to flag thickness issues in real-time.
Darryl Barlett, CEO of k-Space, stated, "We developed a solution for one of our customers who needed to measure the thickness of coating layers that were less than 100 nm thick. Our team of physicists and engineers took the production environment into account and designed this tool for inline measurement that provides real-time results. Because there is a growing need for this type of tool, k-Space decided to make it a regular offering in our industrial product line. We think that it will be beneficial to any business that needs to measure coatings that are outside of the reliable optical thickness range."
To learn more about the kSA XRF, visit https://www.k-space.com/industrial-metrology/glass-inspection/
About k-Space Associates, Inc.
k-Space Associates, Inc. (www.k-space.com) is a leading supplier of advanced metrology instrumentation and software used in research and production facilities around the world. Founded in 1992, its thin-film metrology systems monitor wafer and thin-film temperature, stress, curvature, bow, deposition rate, thickness, reflectivity, spectral reflectance and transmission, and Reflection High Energy Electron Diffraction (RHEED). Researchers and manufacturers use our ex situ and in situ systems for development, monitoring, and process control applications. Through extensive customer input, close collaboration with its worldwide customer base, and a strong commitment to unparalleled technical support, k-Space has developed today's most powerful thin-film metrology tools.
Contact: 
Kathy Wheeler
k-Space Associates, Inc.
[email protected]