Industrial / Specific Purpose Computers
New Waterproof Computers with Intel Skylake Core i5 CPU
Press Release Summary: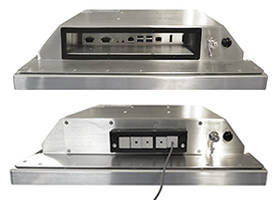 TSC-5010 available in screen sizes of 15", 19" and 21.5"with a P-Cap or resistive touchscreen
Offers high brightness and optical bonding, for use outdoors or under bright overhead lighting
Equipped with 2x COM, 1x Mic-in, 1x Line-Out, 2x LAN, 4x USB 3.0 and 2x DisplayPort
---
Original Press Release:
New Waterproof Computer Series with Standard I/O Ports for Easy Installation
Building a New Type of Waterproof Computer
Last year, a food manufacturer came to Teguar looking for stainless steel computers. The computers would be in a wash down area, where equipment is sanitized regularly with high-pressure, high-temperature water jets. This is nothing new for Teguar. Our computers are installed in these types of environments all the time, but this customer had a unique request. The customer wanted to be able to plug peripherals (a waterproof keyboard, barcode scanner, and scale) into the computer, without installing waterproof cable connectors or a junction box.
Teguar's stainless steel computers come with waterproof M12 cables that allow users to plug in USB, HDMI, and other cables. The cable screws into the computer, creating a fully sealed and waterproof connection, but at the other end of the M12 cable, which is exposed wet elements, the connection is not waterproof. Usually, customers either run the cable to another room, where it is dry (this can require extension cables), or install a junction box, which is a waterproof box that protects the non-waterproof cable connections.
In this case, however, the wash down area was very large, and running cables out of the room was not an option. Junction boxes usually require the user to cut and splice the cables, which can prolong the installation period and require a certified electrician. So, this manufacturer wanted a fully waterproof computer, but with standard (non-waterproof) I/O ports.
Teguar began prototyping. The idea was to integrate a sort of sealed junction box onto the back of the computer; we called this the cable gland. Without any need for special M12 cables, the cable gland allows standard cables to run from the accessory device into the Teguar unit, so that the connection is safe from the environment. The cable gland consists of 5 rubber grommets that fit perfectly around each cable, to create a waterproof seal. To account for different cable circumferences, we created several different sized grommets. The grommets fit together into a chamber that is mounted below the I/Os and seals all water out. 
The first prototype was thick and boxy, so Teguar's mechanical design team worked to reduce the overall depth of the unit and also angled the edges, to give it a more compact, sleek look. The end result was just what the client had asked for: a waterproof computer, with standard I/O ports. To finish up this project, Teguar also designed a custom stainless steel table stand and keyboard tray for this client.
The convenience of having standard I/O ports allowed for a guaranteed IP66 waterproof rating, with no extra costs for a junction box or to hire an electrician. The Teguar Sales team quickly realized that this solution could benefit several other clients who were looking to install new waterproof computers, as well. We are happy to announce that we have now added this product to our catalog.
TSC-5010 Waterproof Computer with Cable Gland | Series Features
The TSC-5010 Series is sister to Teguar's TS-5010 Series. They have similar features, including the Intel Skylake Core i5 CPU, fully waterproof housing (IP66 and IP69K rated, optional IP67), and an optional built-in barcode scanner. The TSC-5010 Series is available in screen sizes of 15", 19", and 21.5", and with a P-Cap or resistive touchscreen. This series is also available with high brightness and optical bonding, for use outdoors, or under bright overhead lighting.
The defining feature of the TSC-5010 series is its cable gland design, which allows it to have more I/O ports than the TS-5010 Series. The TSC-5010 Series is equipped with 2x COM, 1x Mic-in, 1x Line-Out, 2x LAN, 4x USB 3.0, and 2x DisplayPort. Each computer also comes with a variety of different sized grommets, so you can fit any sized cable through the cable gland.
When installing the unit in your facility, you do not need to plan out junction boxes or protected areas to connect your peripherals to the PC, as the cables run directly into the unit and then are sealed after connection. This can simplify the procedure for installation and ensure more robust protection in wet or humid environments.
TSC-4010 Intel Celeron Waterproof PCs
The new cable gland design will also be available with an Intel Celeron Processor, in the upcoming TSC-4010 Series. The TSC-4010 Series will be mostly the same as the TSC-5010 Series, with slight differences in the I/O ports, and, of course, the power efficient Intel Celeron CPU. This Series is expected to launch in summer 2020.
View the full TSC-5010 Series on our IP69K Waterproof Computer Page, and contact us to discuss your project or request a demo. 
Contact This Company Download Spec Sheet
More from Computer Hardware & Peripherals